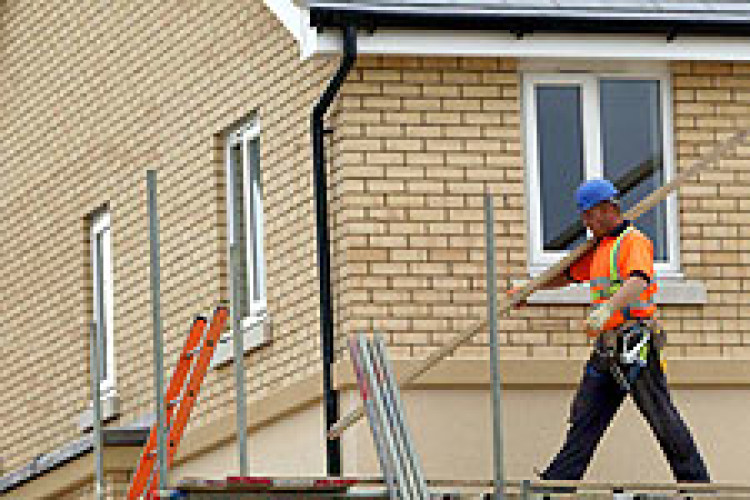 The 'Get Britain Building' initiative will focus on 'shovel ready' construction sites where work has stalled.
The government is aiming to build an additional 450,000 new homes by 2015.
Developers will compete for funds and building work on selected schemes could start next July.
It is hoped that up to 3,200 of the proposed new properties will be affordable homes and that the initiative will support up to 32,000 jobs.
The initiative is part of the new government housing strategy, also launched today, which includes:

A scheme worth hundreds of millions of pounds to underwrite a small percentage of mortgages for new-build homes. It is designed to reduce the size of a deposit, particularly for first-time buyers, by shifting the loan-to-value ratio. Banks are currently demanding deposits of up to 20% of the value of a property from first-time buyers.
An extra £50m on top of the £100m from this year's budget towards an initiative to refurbish empty homes, mainly in deprived areas. Andrew Stunell, the Liberal Democrat communities minister, has said there are two years' supply of homes locked up in empty property.
In a foreword to the government's new housing strategy, Cameron and Clegg say: "By the time we came to office, house building rates had reached lows not seen in peace time since the 1920s. The economic and social consequences of this failure have affected millions.
"That lack of confidence is visible in derelict building sites and endless For Sale signs. It is doing huge damage to our economy and our society, so it is right for government to step in and take bold action to unblock the market.
"With this strategy we will unlock the housing market, get Britain building again, and give many more people the satisfaction and security that comes from stepping over their own threshold. These plans are ambitious – but we are determined to deliver on them."
Got a story? Email news@theconstructionindex.co.uk