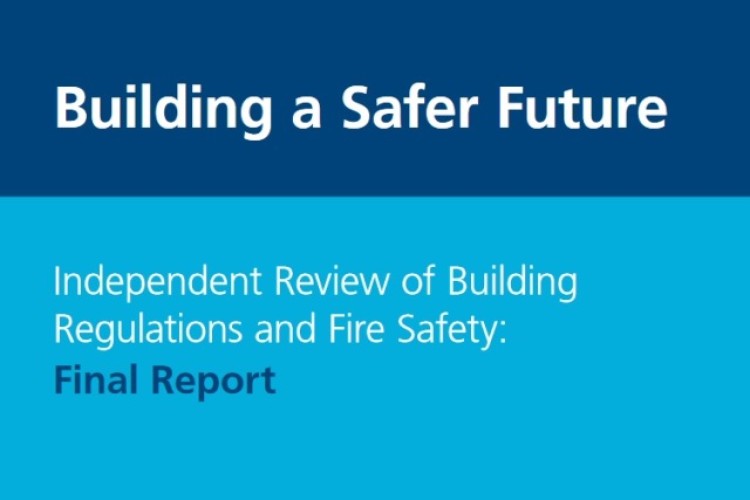 The Construction Industry Council (CIC), which is the umbrella body for professions in the built environment, has published its response to Dame Judith Hackitt's Building a Safer Future report, commissioned by government in the wake of the Grenfell Tower fire.
The CIC is seeking to pick up Dame Judith's initial ideas for a Joint Competent Authority (JCA) and develop them. Their solution is a Building Standards Agency "tasked with oversight of both construction and building management, with a clear objective of ensuring that buildings are built to be safe and remain safe throughout their operational life".
But while the professions agree on the need for reform, there is disagreement among them over how to achieve it.
"Our members do not necessarily agree on all the different mechanisms for reform, the CIC admits.  "Whilst welcoming many of the recommendations, the Royal Institute of British Architects (RIBA), for example, would prefer to see a more prescriptive approach and argues that clear baseline standards would provide better protection for the public, such as installation of sprinklers and a ban on combustible materials in external cladding on high rise and other higher risk buildings."
It continues: "Others point to the widespread use of ACM cladding in spite of it apparently not satisfying requirement B4 of the Building Regulations as evidence that prescription is not the answer. An approach based on outcomes leaves more scope for innovation, for example, in offsite manufacture."
Dame Judith Hackitt's report, published in May 2018, took the view that prescribing what products and systems must be used and banning specific products and systems was philosophically the wrong place to state. Better, she decided, was to specify output – results – rather than input. The professions are clearly divided on this most fundemental issue.

The CIC response also says: "LABC, representing local authority building control inspectors, and the Association of Consultant Approved Inspectors (ACAI) are both members of CIC.  Perhaps unsurprisingly, there is also a divergence of views amongst these two organisations regarding Dame Judith's proposal to limit enforcement of compliance of regulation in higher risk residential buildings to a restructured local authority building standards function."
It adds: "The CIC view is that the services of both approved inspectors and local authority building control (to be renamed Building Standards under proposals by Dame Judith) will be necessary to deliver the improvement in building safety that is required.
"Local authority building standards officers would enforce compliance and approved inspectors should be part of the regulatory regime verifying and enforcing compliance so long as they are working for the JCA. The new regulatory system should avoid all conflicts of interest, including local authority building control departments having a regulatory role in relation to the buildings owned by that local authority."
For clarity, LABC managing director Phil Hammond told The Construction Index: "LABC fully supports all of Dame Judith proposals – particularly in the need to end competition in the regulation and enforcement of higher risk residential buildings which has led to many dutyholders choosing their regulator on the basis of the least interference at the least cost. Our response called for the earliest possible implementation of all her recommendations using existing statutes and process and not waiting for further primary legislation.
"It is not surprising that commercial providers and some members of CIC disagree. Nevertheless, LABC has fully supported the wider membership of CIC and has taken a leading role in the Industry Response Group work on competency organised by CIC."
The full CIC response to Building a Safer Future can be found at cic.org.uk
Got a story? Email news@theconstructionindex.co.uk