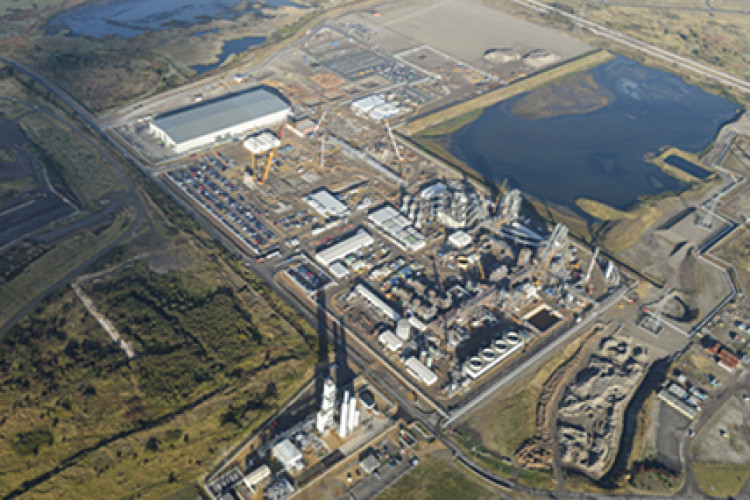 Project client Air Products, which is also acting as main contractor on the £150m project, said worked would be wound down 'in a controlled way'.
The 50MW power plant is one of two high-tech incinerators that the US industrial gases company is building at Port Clarence. The first is already built.
Construction on the second began in April 2014 with full fanfare. Cabinet minister Francis Maude led the ground-breaking ceremony.
In a statement, Air Products said: "After careful consideration we have made a decision to temporarily suspend construction of our second energy from waste project (TV2) in Tees Valley, UK.  This decision does not reflect on the performance of our 700 highly-professional contractor colleagues currently working on the TV2 project, who will sadly be impacted by the suspension in work."
It continued: "The duration of the suspension is yet to be determined but we remain committed to completing both facilities as soon as possible.  We will work with our contactors to wind down TV2 construction activity in a controlled way."
The nearest thing to an explanation for the suspension was this:  "As with many ground breaking projects, improvements are identified as construction advances and new solutions put in place.  This is the case for our first renewable energy facility currently being built (TV1).  The learnings we are making here will be applicable to our second plant.  By deferring construction we will be able to ensure any modifications are applied to TV2 in a cost-effective way when activity is resumed.


The GMB union, which represents workers on the project, called it an 'appalling situation'.
GMB regional officer for construction Michael Blench said "This is yet another crushing blow for the workers on Teesside. Seven weeks away from Christmas 700 workers are told they are no longer required. This project was being built by the client Air Products who decided to also undertake the role of engineering procurement and construction (EPC) management. It was duly signed up to category 1 of the National Agreement for the Engineering Construction industry (NAECI). It is 75% completed with excellent productivity and very good Industrial relations."
Mr Blench added: "The problems seemed to be in a technology failure on the previous Tees Valley 1 plant which was constructed for Air Products next door by EPC company Foster Wheeler Energy. All workers on site were told due to the problems with the TV 1 project that all work would now stop on TV 2 and they were that as of 1.30pm today (5th Novembers) they were finished on the project."
He concluded: "GMB are in talks with Air Products to try to resolve this appalling situation, where due to no fault of their own members have been dismissed with no prior consultation regarding the disastrous situation with the technological problems on the site."
But Air Products said the suspension of works was good news really: "Although not part of our original plan, in the long-term, this decision will aid the overall operational success and future of both our renewable energy facilities at Teesside."
Got a story? Email news@theconstructionindex.co.uk