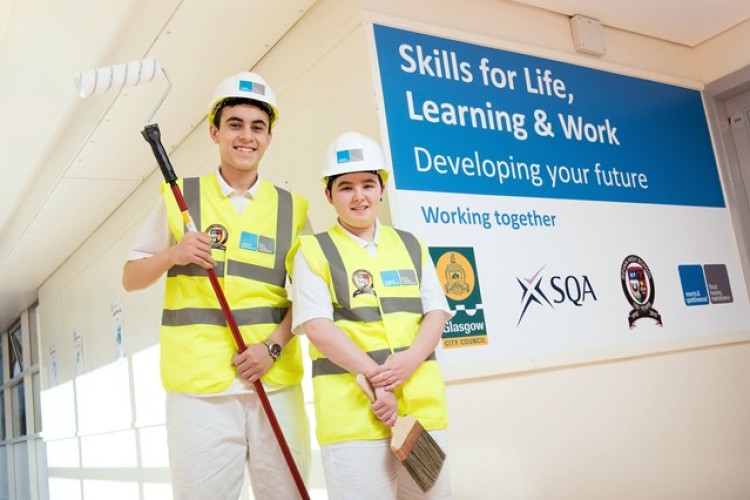 Govan High School is offering one-year courses in construction to fourth, fifth and sixth year pupils, thanks to support from locally-based Morris & Spottiswood.
The course is designed as a pre-apprenticeship scheme. Deputy head teacher Andy Masterson said that the in-house course would allow pupils to experience property and construction environments, and develop life skills, while gaining an SQA accreditation at National 4 or 5 level.  Pupils will have the opportunity to learn a selection of trades such as painting & decorating, joinery and plumbing. 
 To support the programme, Morris & Spottiswood has converted a classroom into a construction unit that has been designed as a mock-up house. The facility allows students to complete and refurbish the space, and understand how to maintain, enhance, and operate safely within a working trade environment. 
Mr Masterson said: "The goal of this programme is to better prepare young people for the world of work, to develop the skills needed to be successful and to harness the message, contained within the Wood Commission Report, to work with businesses to develop real life employability experiences. As a course, it offers students invaluable practical knowledge, and a platform for career progression. The success of this project is attributed to the excellent partnership between ourselves and Morris & Spottiswood working together. The initiative is the result of a group of teachers and businesses connected with Govan High School, who felt they had a duty to ensure students have the qualifications, skills and confidence to build a positive and sustained career when they leave school."

Morris & Spottiswood chairman George Morris described the course as "innovative and ground breaking", adding that it could act as trailblazer for other similar courses across Scotland. He said: "There is a critical shortage of experienced tradesmen and managers in the building industry and that can be attributed to many causes. We hope this project will demonstrate that this skills shortage will only be addressed by all stakeholders getting involved and working together. That is what makes this so exciting. With effort, will, vision and passion on all sides, we can make a difference."
Pictured above are, left to right, pupil Lauren McCormick, deputy head teacher Andy Masterson, pupil Mohammed Jamal and Morris & Spottiswood chairman George Morris inside the new mock-up house.
Got a story? Email news@theconstructionindex.co.uk