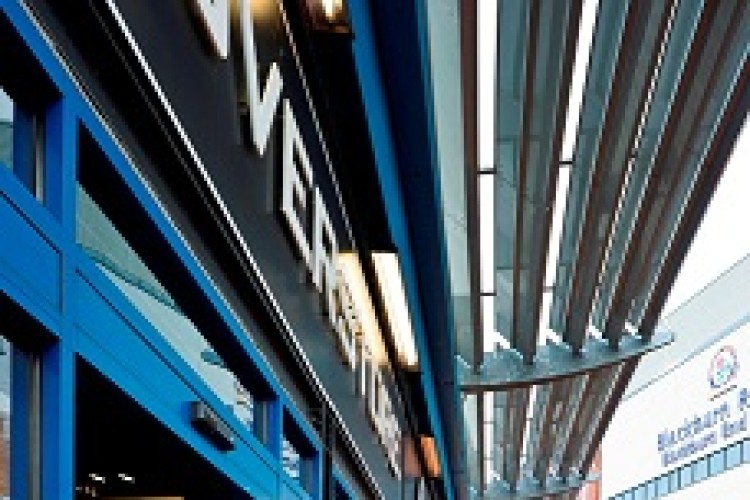 As part of the policy, the football club has installed Dorvision, an innovative GPRS based door controls system developed by Dorma, global leader in the development of door technology products and systems. Enabling the remote opening and closing of multiple doors from one central location, the system has enabled the Football Club to significantly achieve its goals of reduced costs and increased security.
An extensive review of the way the club manned the many entrances associated with its estate and the costs involved with using staff to maintain security, highlighted the rising costs associated with manually unlocking and locking its doors plus emergency and regular maintenance visits. Requiring a solution that would cut man hours associated with manually opening and closing doors as well as reduced service costs, and having been satisfied with the Dorma automatic door controls used throughout the stadium, Blackburn Rovers Football Club turned to the company's innovative Dorvision solution.
A GPRS based wireless system, Dorvision is cleverly concealed within the door equipment. From there, it captures up to the minute data, 24 hours a day, seven days a week, providing the user with real-time remote handling functionality of the doors' main controls.
Should a problem arise with any door fitted with Dorvision it can be diagnosed remotely by the Dorma Service Team who will activate an immediate response. What's more, a remote reset facility allows many problems to be solved without the need for a service engineer to attend. Problems that do require an engineer can be identified in advance increasing the likelihood of a first time fix.
The system also has the ability to provide SMS text message and email reporting direct to the customer should any problem arise with a door. As well as fault management, Dorvision monitors the performance of doors, reporting footfall trends that allow users to see how often the door is activated which can potentially assist with staffing levels.
Dorvision was installed onto the existing twelve sets of doors which included Dorma's automatic sliding door operators ES200 and ES90 and the electro-hydraulic swing door operator ED200. These were located at various parts of the stadium including entrances for fans and players, a reception area and a retail shop. The club had the additional requirement for a retail shop, located offsite in Blackburn city centre which also required a remote opening, closing and locking facility on the existing Dorma door closers.

Dorvision can be installed on virtually any automatic door and as well as remote opening and closing it also provides the ability to self diagnose maintenance requirements through a secure internet based portal, helping to minimise call out costs.
"We have a constant need to unlock and lock specific entrances for stadium tours, deliveries, practice sessions and for grounds people. Following a review of our current procedures we decided that a more efficient method would be a door management system that could be remotely controlled from our stadium security office' commented Farah Aktar of Blackburn Rovers Football Club.  "Dorma's GPRS based wireless Dorvision proved to be the intelligent management system that met the club's requirements and would allow the remote opening and closing of doors without the need to send security staff around the site. The system also has played a key role in helping us to reduce our maintenance costs associated with servicing of our automatic doors."
When the ES200, ES90 and ED200 automatic door closers are used in conjunction with DORMA's revolutionary, Dorvision, it provides the ideal door control system and allows the client to remotely monitor and manage their premises' doors online via a secure online gateway, ensuring that they are always ready for business.
"The doors at the stadium have now been in operation for ten months and we are very pleased with the remote functionality of the system' explained stadium and security manager John Newsham. " In terms of any problem, we can diagnose and either reset remotely through the online system or on the rare occasion call out a service engineer."
Ideal for a wide range of organisations, from transport facilities to large offices and shopping centres, Dorma's versatile and cost effective Dorvision can be interfaced with any type of automatic door operator.
Got a story? Email news@theconstructionindex.co.uk