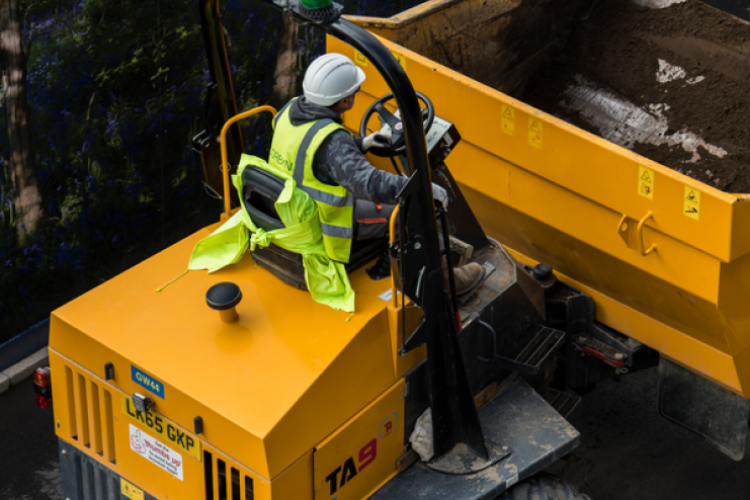 Eight people have been killed by forward tipping dumper trucks on UK construction sites in the past 15 months. Typically, the dumpers have overturned on mounting spoil heaps and the operator has tried and failed to jump clear. The other key danger is site infantry being run over due to restricted view the driver of a loaded dumper might have.
As previously reported, the Construction Plant-hire Association (CPA) and the Civil Engineering Contractors Association (CECA) have been moved to take action. Over the past year a series of industry-wide meetings have been held to draw up an action plan. Some had hoped that the result might be a UK specification ensuring all dumpers had enclosed ROPS/FOPS cabs to keep drivers safe in the event of an overturn, or a ban on driving dumpers onto spoil heaps. Certain companies – generally ones that have already been impacted by a fatality – have adopted these measures as policy on their own initiative.
The latest dumper truck meeting was held in Solihull last week and was attended by more than 60 client representatives, contractors, plant manufacturers, federations, regulatory bodies, plant hirers and equipment owners. CPA director Kevin Minton and CECA chief executive Alasdair Reisner co-hosted the meeting.
Agreement was reached on seven principles will be used as the basis of 'an action plan to take forward'. These relate to visibility, stability, training, competence, spoil heaps, exclusion and equipment selection.
 The CPA has already produced a safe-use guidance document, aimed principally at operators for refresher training purposes, and it was agreed at the forum that an operational good practice guide on forward tipping dumpers would be produced through the Strategic Forum Plant Safety Group, administered by CPA.

Several working groups are being formulated to discuss how to raise the bar in the seven areas to be focused on.  One group will provide a supplementary document to the Plant Safety Group's work on ground conditions by providing guidance and recommendations for the travelling of dumpers on spoil heaps. There are those who will hope that it says simply: 'just don't'.
While enclosed cabs and the use of seatbelts were discussed at last week's meeting, it seems that the powers that be are not yet ready to call an industry-wide ban on open-cab dumpers of six-tonnes and above.
CPA director Kevin Minton said afterwards: "Accidents and incidents involving forward tipping dumpers are caused in a number of different ways and we need a range of solutions to ensure the operator is safe and the general public is safe. The industry forum generated action points from which we can help to reduce the risk of accidents occurring, improve management of sites, commit to best practice and enhance awareness of operatives and operators."
CECA chief executive Alasdair Reisner said: "We have made a tremendous amount of progress in a short space of time and have strong support from across the industry to work together to enhance the safety of forward tipping dumpers. There is a need to engage wider industry and we are looking to implement an awareness campaign such as the provision of a website to find more information about forward tipping dumpers."
Got a story? Email news@theconstructionindex.co.uk