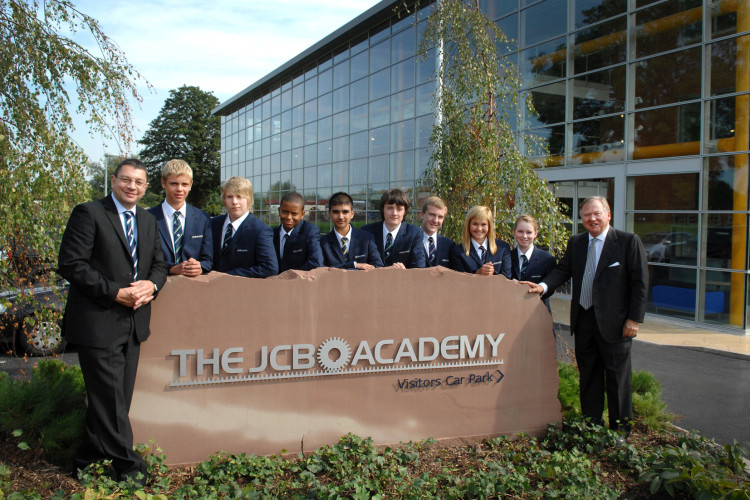 The Year 10 students arrived for lessons at the new £22 million JCB Academy in Rocester, Staffordshire where they will study a curriculum designed to produce the engineers and business leaders of the future.

The JCB Academy is the brainchild of Sir Anthony Bamford who in his 35 years as Chairman of JCB has championed the cause of British manufacturing and long voiced his concern over its decline and the dearth of young people with engineering skills emerging from the education system.

Today he said: "I am passionate about engineering and committed to British manufacturing but we need the right calibre of young people to ensure that we continue to be a nation that makes things in an innovative way.

"The JCB Academy is one small step to helping achieve that aim. The facilities here are second-to-none and offer the students the opportunity to learn about manufacturing and engineering in a way that is exciting and practical and aligned to the needs of employers when they qualify in a few years time."

A total of 120 pupils from all over Staffordshire and Derbyshire arrived for lessons today in a building that has a deep industrial heritage.  While the idea for The JCB Academy began life in the summer 2006 with a Government feasibility study, it has been created in a Grade II listed Arkwright Mill dating from 1781 and has been equipped with in excess of £1 million worth  modern engineering equipment which will help pupils turn their design ideas into reality. The equipment includes the only plasma cutter – a machine tool commonly used in industry – to be based in a UK school.

The engineering tasks completed by pupils have been set by The JCB Academy's partners who include JCB, Rolls Royce, Toyota, Network Rail, Bentley, Bombardier, Rexroth Bosch Group, National Grid, Zytek Automotive, the Institution of Mechanical Engineers, IET, Harper Adams University College, The Royal Academy of Engineering and Parker Vansco. They will complete their engineering tasks alongside Maths, English, Science and German GCSEs.

So popular has demand for places at The JCB Academy been, that it has been fully subscribed for months now. In addition to the Year 10 pupils, a total of 50 sixth formers wilI start their studies there on Monday, September 13th.

The JCB Academy is the first school of its kind in the UK for the education of 14 to 19-year-olds with a core focus on engineering. Like other state schools, the £22 million JCB Academy is funded by the Department for Education, but as main sponsor JCB contributed 10 per cent of the capital and donated the mill in which it is based.

As well as delivering a world-class learning environment, The JCB Academy is also designed to be highly energy efficient and it has installed an Archimedes Screw which will generate around 80 per cent of the power for the site. Rain water is also harvested for recycling.

The emphasis on high technology is also evident in everyday life at The JCB Academy as it will deploy finger recognition technology using biometric information, enabling pupils to register their daily attendance, pay for their lunch and even sign on to their laptops with the swipe of a finger. The JCB Academy also boasts a 3D room where pupils don glasses and see 3D colour animations of the projects they are designing. Every pupil will also get a laptop, which they are able to keep once they leave The Academy.

JCB Academy Principal Jim Wade said: "Today has been long awaited and it's very exciting to welcome pupils here after all the years and months of preparation. We have the very best of facilities here geared to educating our young people to a level that gives them the employability skills they – and British manufacturing – need when they leave.

"Today is only the start of the journey and already we are making plans to recruit the next intake of students and with demand so high for places we urge those wishing to apply to come to one of three special open evenings at The Academy on either 5th, 7th or 13th October."
Julie Pegg's 14-year-old daughter Amy started at the JCB Academy this morning (Thursday).

Julie, of Meir, Stoke-on-Trent said: "We attended an open evening earlier in the year and from that moment on we saw this as an excellent opportunity. With JCB and other major companies like Rolls Royce on board there seems to be more chance for Amy to succeed here than there is at a mainstream school.
 
"The curriculum is imaginative, the location and the building is fantastic and it give the students the chance to be really hands-on and practical in lessons and stretch their imagination."

Julie, who works in Technical Publications at JCB Service, added: "Amy is both excited and nervous but I know she will be fine - she has already made friends with other students who are starting today via email and Facebook, so she isn't going in there cold. She knows this is a fantastic chance and is really looking forward to it."
Pictured left to right: JCB Chairman Sir Anthony Bamford (extreme right) pictured with (from left to right) JCB Academy Principal Jim Wade; Connor Bradbury, of Blurton, Stoke-on-Trent; Harry Masters, of Rugeley; Mark Umerah, of Hixon, near Stafford; Adam Nawaz, of Derby; Kristofer Anstey, of Stone, Staffs; Kieran Morton, of Cheadle, Staffs; Chelsea Bennett, of Stafford and Ella Pilsworth-Straw, of Derby.
Got a story? Email news@theconstructionindex.co.uk