Already Hire has ordered two Hinowa HS701 dumpers to support its established customer base of rail contractors. It sees a market renting the machines to contractors working on transport infrastructure projects such as Crossrail and the London Underground.
Trevor Goodwin of Already Hire said: "When it comes to underground rail, these compact Hinowa machines can access areas that are impossible to reach with bigger dumpers. Also the narrow width means they fit comfortably between the rail tracks, making it easier and safer to move them around.
"For similar reasons they are in demand with builders, especially for construction or renovation jobs where a bigger dumper just can't get behind a building. The compact height also means that the HS701 fits in a van, helping us to minimise transport costs."
The HS701 is a diesel-powered, 0.29m³ capacity dumper with a mast-type hi-tip feature, enabling it to load skips up to 1.35m high. Specifications include a 7kW (9.4HP) Kubota engine, two-speed gearbox, and a top speed of 3.8km/h.
Just 758mm wide, it is can pass through a garden gateway or standard door. Load capacity is 550kg to heights of up to 1.35m and the bucket can be tilted by up to 88˚.
Already Hire placed the order for the first two HS701s after a site demonstration of the prototype machine by APS, the UK distributor for Hinowa construction, lifting and materials handling products.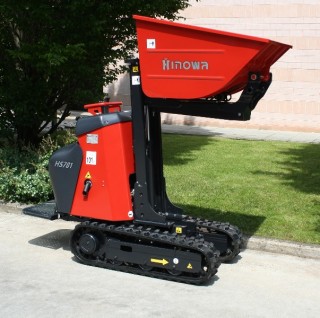 Got a story? Email news@theconstructionindex.co.uk