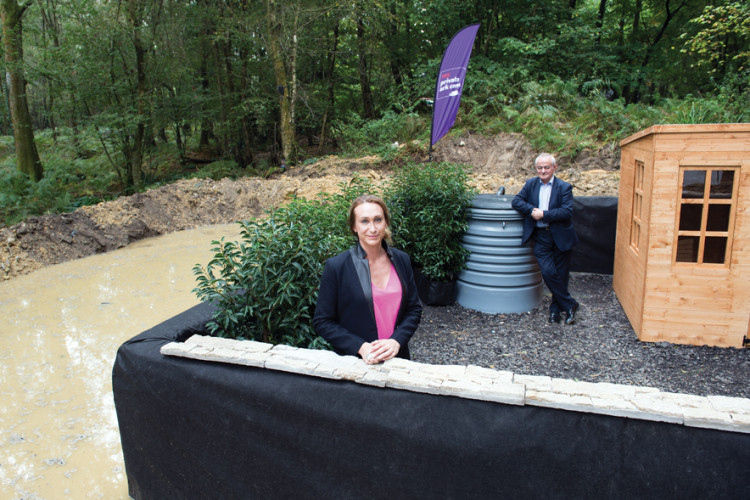 Last winter's flooding livened up many a dinner-party conversation, giving people the opportunity to criticize Environment Agency incompetence over the cabernet sauvignon and declare that "something needs to be done" between mouthfuls of tiramisu.
But it takes a certain kind of person to leave the table resolved to actually do something; and somebody quite exceptional to get up the next morning and start putting their words into action. But that's what Alexis Smith did in January this year.
And now, just 10 months later, she has a fully-tested flood defence system and a business that is about to launch itself nationwide.
Smith laughs when she hears herself described as a 'serial entrepreneur' but the term is apt. At 35 she has already launched and run several successful businesses ranging in activity from entertainment and events management to food retailing. In January, having sold her last business and taken almost a year out, she was looking for another project.
At a dinner party also attended by a potential backer for Smith's latest idea – a smartphone app to promote healthy eating – the discussion turned to the flooding that had put much of Somerset and parts of the Home Counties under water.
"I was saying that it seemed crazy that we could do all sorts of clever technological stuff but we couldn't stop the rain flooding people's houses," says Smith.
At this point her funding partner chimed in. Concerned that the healthy-eating app wasn't a goer, he said: "That should be your next project: develop a system to protect against flooding".
"Of course I had no idea about flooding or engineering or construction so I had to read up on it," says Smith. But she already had the germ of an idea and resolved to test it: "I went to my local pound-shop and bought a bucket, some sand and a pump and built a model of my system. And it worked," she says.
That alone was not enough to prove the idea was viable, so Smith logged onto the internet to find someone who could tell her whether or not she was barking up the wrong tree. "I always look for the best people," she says. "Imperial College is the best university for engineering so I looked there and found Prof Maksimović."
Čedo Maksimović was indeed the best person to approach as he is a hydrologist and Professor of Urban Water Systems at the Environmental & Water Resources Engineering section of Imperial. Smith charmed her way into his office and explained her idea. "He just said: 'Yes, that would work'. I was quite surprised," admits Smith.
Smith's idea was to isolate the building from surrounding flood water with an impermeable barrier – hardly a revolutionary suggestion, but significantly different from previous solutions.
"The idea is to keep water away from the building altogether," explains Smith. "We do that with a continuous barrier that can be erected around the boundary of the property, either replacing an existing wall or fence or incorporated into it."
The barrier is a composite panel structure comprising an expanded-polystyrene core sandwiched between two layers of weld-mesh reinforcement. Panels slot together to form a continuous wall which is then shotcreted on both sides.
The system, called Tridipanel, originates in the US where it was developed by San Diegobased Rod Hadrian. It has been used for house construction and general building work for several years in locations around the world from Hawaii to Mexico, Dubai, Hungary, Sri Lanka, Egypt and Afghanistan.
Because it is strong, slim and both quick and easy to install, Tridipanel offered the ideal barrier system. But Smith's experiments with her bucket of sand had demonstrated very clearly that preventing surface water entering the building is only part of the solution; by the time the water's lapping at the doorstep, it's already saturated the foundations and is coming up through the drains.
Tackling this problem is where Smith's idea gets really technical. Rising groundwater levels give prior warning of flood conditions, so Smith proposed sinking a network of electronic sensors into the ground around the building to detect changes in water level. Smith calls her idea the Sahara Drainage System.
When groundwater starts rising fast, these sensors initiate alarms and switch on a pump that starts sucking water out of the ground and into an underground sump. From there it is pumped to the outside. The saturated ground beneath the property is thus drained and the water level lowered.
At the same time, non-return valves fitted to the main drainage system prevent water backing-up and flooding the building via toilets and drains.
While this protection kicks in, alarms are simultaneously sent via SMS and email to the building occupier and a central control centre where help will be available from a "rapid response team". The warning also allows building occupiers to deploy temporary barriers to block access routes such as driveways and paths.
In September – less than nine months after Smith had the idea – the system was given its first full-scale test, on a site near Crawley, Surrey.

"We built our own swimming pool: dug a big hole, lined it with a membrane and some clay and flooded it," says Smith. The defence system, enclosing a space measuring 6m x 7m, was erected inside the pool and the system monitored over a 24-hour period. The garden shed erected within the protected area to house the control system remained dry, Smith reports.
Smith's team is now in the process of building another test system in a larger excavation. Later this month [November] this will be flooded to a depth of 1.5m and kept flooded for an entire week to see if the Sahara Drainage System can keep the flood at bay, says Smith.
Although the system is still in its infancy, Smith says she is ready to roll it out on a commercial basis. "I've sold three systems already," she says. "And I'm talking to a hotel, an adventure park and to an entire village on the Berkshire-Buckinghamshire border."
The idea of protecting an entire village is intriguing – but at this early stage, Smith is unable to elaborate beyond hinting that individual groups of properties, rather than the entire settlement as a whole, would be protected with the system.
Smith's business, called My Private Ark, not only has the support of Prof Maksimović and Tridipanel's Rod Hadrian, but is also backed by a "market-leading triple-A rated global insurance broker" and has gained approval from the ICC Evaluation Service and the Engineering Council.
As the UK enters another winter, with a strong likelihood of the sort of heavy rainfall that's now a fixture of the British climate, building owners, insurers and developers might find the prospect of their own Private Ark rather attractive.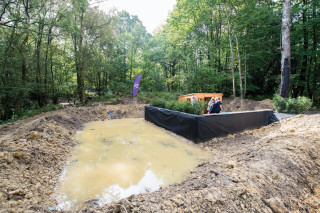 No rain; no gain
Professor Čedo Maksimović is a renowned expert in pluvial flooding – that is, flooding caused by high rainfall – especially in urban areas. Besides his research at Imperial College, he is also a leading light in a trans-national project called "RainGain" which is looking into improving the prediction of pluvial floods in cities.
The RainGain project is currently testing new rain prediction systems, based on high resolution radar methods, in four European cities: London, Paris, Rotterdam and Leuven in Belgium.
The London study is located in the Cranbrook catchment, an area within the London borough of Redbridge with a history of flooding.
Here, a monitoring system including rain gauges, pressure sensors and water depth gauges transmits data via real-time wireless links to the internet.
This information is combined with rainfall data collected via the Short Term Ensemble Prediction System (STEPS) used by the Met Office and highly sensitive X-Band radar which can detect small particles (such as drizzle). This provides very accurate rainfall estimates with higher spatial and temporal resolution. This technology could potentially revolutionise weather forecasting, says Alexis Smith, with rainfall events predicted to within a few minutes and pinpointed to streetaddress level.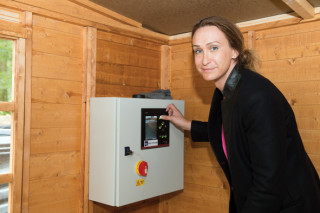 The Greater Good
After an early career in the hedonistic world of raves and events management, Alexis Smith says she now looks for projects that satisfy a desire to do good. First it was healthy food, with a chain of eight shops in London called the "Salad Factory" which she sold almost two years ago. Then it was the 'healthy-eating' app (currently on hold) and now it's My Private Ark.
In addition to tackling the misery of flood damage, My Private Ark says it will spend one month every year working alongside charities and providing voluntary support during flooding – not only to its own customers but also to the wider community.
Smith even promises that, where 20 units of her system have been bought in a local area, My Private Ark will install one more, free of charge, to a building of the community's choice
This article first appeared in the November 2014 issue of The Construction Index magazine. To read the full magazine online, click here.
To receive you own hard copy each month in traditional paper format, you can subscribe at http://www.theconstructionindex.co.uk/magazine#
Got a story? Email news@theconstructionindex.co.uk