The structure is free of scaffold for the first time in more than a decade and after the £130m refurbishment should need no further full-scale repainting for at least 20 years.
The project, delivered by Network Rail and main contractor Balfour Beatty Regional Civil Engineering, involved encasing the bridge in 4,000 tonnes of scaffolding, painting more than 230,000sqm of steel and all 6.5 million rivets of the structure.
At peak of work, 400 people a day were working on the bridge refurbishment.
Network Rail route managing director for Scotland David Simpson said: "Repainting the bridge has long been considered one of the world's never-ending tasks, and the refurbishment programme we have just completed has been one of the biggest engineering challenges Network Rail has faced.
"Our staff and contractors can take real pride in their achievements on this project, not least in the fact that through their efforts this amazing structure will remain free of major maintenance work for at least two decades."
Balfour Beatty Regional Civil Engineering managing director Marshall Scott added: "It is a testament to the skill and commitment of the project team, and the subcontractors and suppliers, involved in this significant and complex programme of works that the iconic Forth Bridge has been returned to its original condition."
With the main refurbishment work completed, contractors will continue to work around the structure until spring 2012, decommissioning site compounds and restoring the public viewing area at the North Queensferry side of the bridge.
A small team of specialists and engineers will continue to monitor and maintain the bridge, which is regularly exposed to extreme conditions due to its location above the Firth of Forth.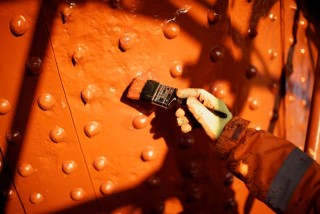 Forth Bridge facts
Opened: 1890
Length: 2,467 metres

Main structure (portal to portal): 1,630 metres
Height of Bridge (high water to top): 110 metres
Height of Bridge (foundation to top): 137 metres
Weight of steel in bridge: 53,000 tonnes
Number of rivets: 6.5 million
Concrete and masonry in piers: 120,000 cubic yards faced with 2ft thick granite
Painting the bridge
Painting area: 230,000 sq metres
Volume of paint used: 240,000 litres
Lighting the bridge
Total number of lights installed: 1,040 lights
Length of cabling required:  40km
Got a story? Email news@theconstructionindex.co.uk