Galliard Homes, in joint venture with Frogmore and Cain Hoy, is building a series of high-rise apartment blocks on a 2.65 acre industrial site.
Called Harbour Central, the development will provide 901 apartments as well as retail, commercial, leisure and parking facilities in five mixed-use towers, up to 41 storeys high, designed around two new green squares, to be called Millharbour Park.
Located off Lighterman's Road, close to Millharbour Dock Basin, Harbour Central is designed by architect Rolfe Judd.
Three residential towers, 41, 35 and 24 storeys, will have homes for private sale. The final pair of towers, eight and 27 storeys high, will have intermediate and affordable rented homes. The tallest tower is called Maine Tower.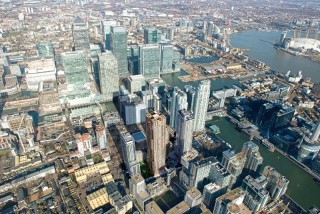 Galliard Homes chairman & chief executive Stephen Conway said: "Harbour Central is a flagship development and the first major Canary Wharf project that we are undertaking in association with Cain Hoy. Millharbour is the best residential address in London Docklands and through working with Argent Design we have designed a scheme that offers buyers both a lifestyle offering and a superb investment. We believe that with the regeneration of this industrial site adjoining Millharbour Dock and the forthcoming Cross Rail link that will be a game changer in connecting Docklands with West London, homes in the locality will benefit from capital value uplift and sustained sales demand from rental investors and end users."
Got a story? Email news@theconstructionindex.co.uk