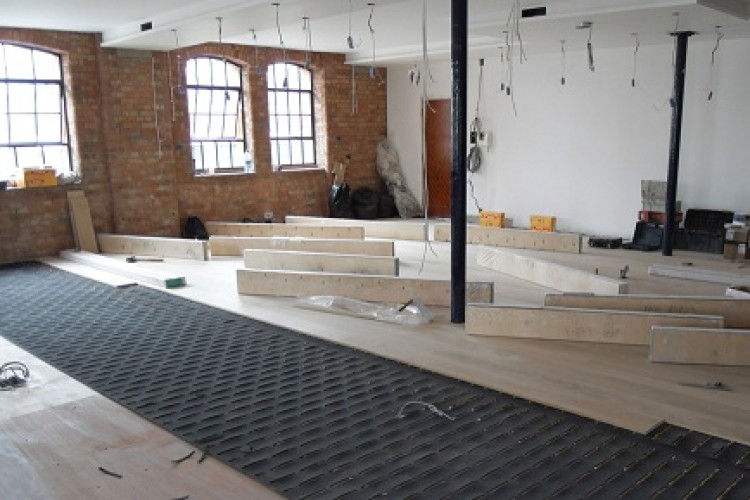 Elena and David, the owners of the property, selected Sika's flooring adhesives to help lessen travelling noise between their property and that of their neighbour below. Elena commented: "Prior to the installation of the new system, the floor simply comprised 20mm pine boards nailed directly to the joists - the resulting effect meant that noise transmission was both direct and acute."
"To help mitigate this issue, we started by using SikaBond T2 adhesive to deliver a permanently elastic bond between the 18mm thick plywood sub floor and supporting wooden joists. Using SikaBond T2 in this way, we were able to ensure the timber would be able to expand and contract, in line with indoor climatic conditions, without degradation to the overall quality of the joint itself," said David.
"Once this was in place, we installed Sika's AcouBond system across 145 square metres to deliver a sound dampening layer between that of the subfloor and the 20mm thick engineered oak flooring itself," he continued.
Sika's AcouBond system comprises Sika's Silent Layer Mat, available in either 3mm or 5mm thicknesses, and comes ready to lay in a handy roll. Easy to cut to the required size using a sharp knife, the Silent Layer Mat is laid accordingly on to the sub floor before applying SikaBond T52FC sound dampening adhesive into symmetrically placed pre-engineered cut outs. The flooring is then laid on top and securely held in place by the SikaBond adhesive.

By working in this way, it is possible to reduce footfall sound by up to 20db - a significant reduction, especially when installing in residential areas, such as flats. In terms of sound levels, it is worth noting that the human ear perceives a 10db reduction as halving of a sound, making a 20db reduction incredibly substantial.
To deliver a tight, uniform finish to the installation, Sika's flexible EBT adhesive was used to seal the floor edge gap between the sub floor and engineered floor boards. David said: "We wanted to ensure that the entire installation was as soundproof as possible so we used Sikaflex EBT to seal the floor edge gap. Fast curing and incredibly flexible, EBT helped to finish off the project perfectly."
Mick Hooper, Key Account Manager from Sika, commented: "By using our SikaBond T2, AcouBond and Sikaflex EBT products together in this way, David and Elena have been able to achieve a finish that is not only aesthetically pleasing but is also able to significantly reduce noise transmission levels between the floor of their flat and the property underneath. Due to the built in acoustic properties of these products, they are ideal for use when looking to install a system with incredibly effective sound dampening qualities at its core."
Got a story? Email news@theconstructionindex.co.uk