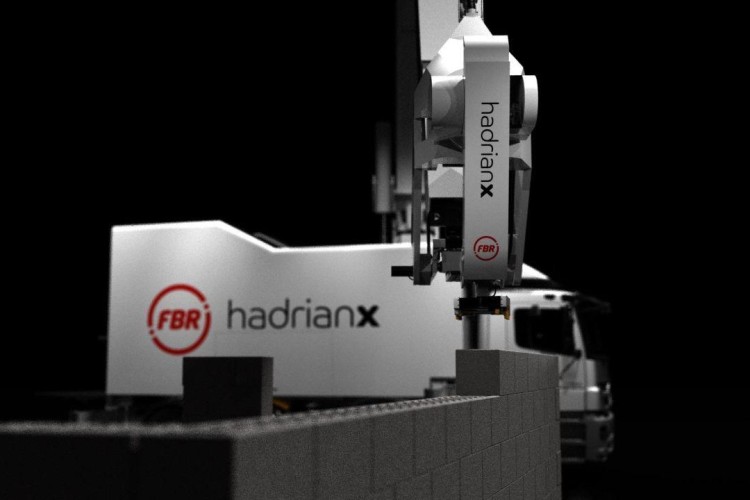 It was the robot's first full-home structure and was completed in a total elapsed time of less than three days. This achieves a milestone set by the company, Fastbrick Robotics (FBR), in 2015.
The house has an area of 180 m2 and includes two bathrooms as well as the three bedrooms.
Construction followed factory acceptance testing (FAT) at FBR's test facility, where the Hadrian X was put throught its paces on three key tasks:
a two-course structure with a full combination of brick sizes, cuts and laying configurations;
an 11-course pillar structure to demonstrate the Hadrian X's ability to build from slab to cap height;
a two-room structure demonstrating the Hadrian X's ability to build a larger structure on a slab from a 3D CAD model with the required accuracy.
Hadrian X then started work on its first full home structure. After completion, the structure was verified as meeting the relevant building standards by a civil and structural engineering consultancy group.

"We are all justifiably proud and excited to have achieved this world first milestone for FBR," said chief executive Mike Pivac. "We now have the world's only fully automated, end-to-end bricklaying solution, with a massive market waiting for it."
Some refinements will now be made to take on board lessons learned to date before demonstrating the company's two Hadrian X robots to key commercial stakeholders.
"What we have achieved here is a quantum leap for the construction industry," added Pivac. "We are excited by the performance and results, given this work was completed in test speed and for the very first time. This points to the massive potential for the technology and FBR's ability to shape the way the construction industry operates in the future."
Fastbrick Robotics first revealed its Hadrian 105 demonstration model in the video clip below in 2016.
Got a story? Email news@theconstructionindex.co.uk