Kettering-based Peter Bennie bought a new Terex Finlay 873 screening machine for iots quarries across Northamptonshire and Oxfordshire. It can also be used to process construction and demolition waste.
This is the tenth Terex Finlay machine that Finlay Plant Southern has supplied to Peter Bennie.
Peter Bennie director Robert Jackson said: "The Terex Finlay 873 is among the most versatile and adaptable machines on the market. It will be used at several of our locations, in both quarrying and recycling environments."
Rochester-based KKB Group took delivery of its 50th machine – a Terex Finlay 883+ – for working on remediation projects. KKB has been specifying Terex Finlay 883s,  and more recently J-1170 jaw crushers, for mnroe than 15 years.
Chairman Colin Basi (pictured below with colleague Craig Hore, left, and Leon Sheehy of Finlay Plant South East, right) said: "The new 883+ offers exceptional durability and flexibility to meet our needs. Year after year we consistently rely on Terex Finlay plant and the service and support of Finlay Plant South East. It's a partnership which has been fundamental to the growth and success of our business."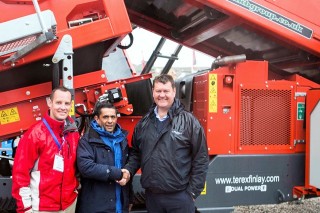 Got a story? Email news@theconstructionindex.co.uk