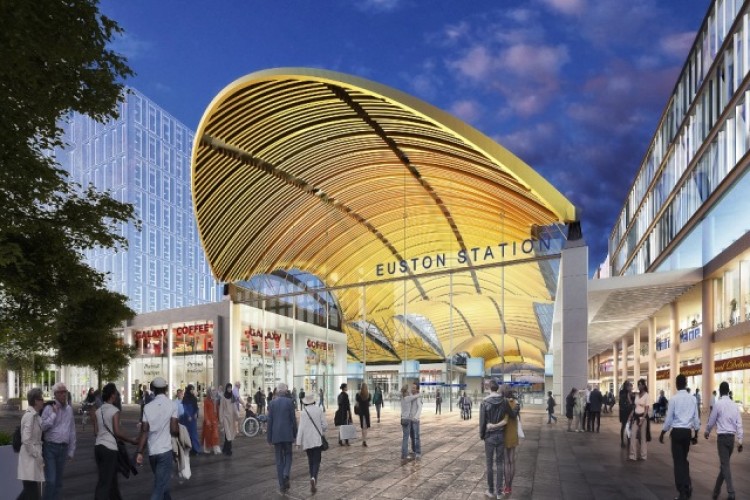 The redevelopment of Euston is central to the London end of the HS2 high speed rail project. It is being proposed that work will take place in two stages to minimise disruption for passengers.
Under the proposals from HS2 Ltd, the new Euston station will provide high speed rail services from London to the Midlands, the North and Scotland. The latest plans are also designed to unlock regeneration opportunity, such has been seen recently at nearby King's Cross. The provision of underpinning support structures will allow a range of uses above the station.
With the 11 platforms that Euston already has, the HS2 project's additional 11 platforms will double the station's train capacity
Under the two-stage construction plan, six new high-speed platforms will be built first, together with a concourse to the west of the station to support the opening of HS2 Phase One (between London and Birmingham) high speed services in 2026.
Five further high-speed platforms and associated concourse will follow later to support the opening of Phase Two services (for trains to Leeds and Manchester) in 2033.
The plans also enable potential redevelopment of the remaining existing station platforms and concourses, subject to future funding and approvals.
London Underground facilities at Euston will also be overhauled with a new ticket hall and direct subway to Euston Square station.
The plans are proposed for inclusion in the High Speed Rail (London-West Midlands) Bill by means of an additional provision (AP). This is due to be deposited later this month, subject to the approval of Parliament.

HS2 Ltd chief executive Simon Kirby said: "These firm proposals will allow Euston to fulfil its potential. It's time for Euston to change. Not just if it is to fulfil its historic role as the gateway between London and much of the rest of the country, but also if it's to become a much bigger and fully accessible part of its own community.
"Just a stone's throw away, we have seen how the stations at King's Cross and St Pancras have transformed the surrounding areas into vibrant and thriving locations.
"We must replicate and build on that commercial and architectural success. Now is the time for Euston to catch up with its neighbours to meet the requirements of the 21st century and beyond."
Euston opened in 1837 and was London's first inter-city train station, Euston. It now caters for around 42 million passengers a year – more than double the design capacity of the current station, which was built in 1968.
However, Camden Council said the plans did not go far enough and should encompass the redevelopment of the existing station as well.
Failure to include the existing Euston Station in a comprehensive development could block the integration of Crossrail 2, which could mean further disruption to an area already facing years of HS2 construction, the council said
The Euston Area Plan, adopted by Camden Council and the Greater London Authority, shows how up to 3,800 homes, up to 14,100 new jobs and new open space could be achieved through comprehensive development at Euston with the HS2 tracks and existing tracks all on one level.
Camden Council leader Sarah Hayward said: "HS2 will cause decades of blight in the Euston area – to property prices, to our small business' trade and to our residents' lives, which is why we remain ardently opposed to the scheme. If HS2 goes ahead with these plans, Camden suffers all of the pain with none of the benefits. London has a housing crisis and people's jobs are insecure. Comprehensive development at Euston with tracks on one level can help remedy this and provide a world-class transport hub, yet the short-sightedness of these plans is threatening to let down Londoners on all these fronts.
"The success of the new King's Cross was built on close collaboration between key partners and viewing the area's needs as a whole. Euston is a different case, but we need bodies like HS2 Ltd., Network Rail and Transport for London to work together with us, residents and businesses to ensure the new Euston works for everyone. Crucially, we need Euston to be part of the Government's budget plans."
Got a story? Email news@theconstructionindex.co.uk