The scheme at Colegrave House, which sits above The Plaza shopping mall, will see the contractor substantially reconfigure and fit out four storeys of existing accommodation to create new offices for the retail group.
Arcadia is the owner of several high street brands including Burton, Dorothy Perkins, Evans, Miss Selfridge, Topshop and Topman.
Arcadia's plans for the reconfiguration and refurbishment of the Oxford Street Plaza Centre include the creation of a new 73,500 sq ft flagship retail store, an enlarged double height office reception and a range of retail and gym extensions as well as enlarged offices for the Arcadia Group, which occupies around 125,000 sq ft of offices above the mall.
Arcadia Group employs around 600 staff in the 125,000 sq ft of offices on the upper floors.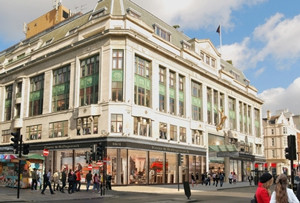 The contract was signed by Arcadia boss Sir Philip Green (pictured left, below) and ISG chief executive David Lawther (right).
Mr Lawther said: "We continue to be encouraged by noticeable improvements in the volume, scale and quality of London commercial office fit out projects reaching the market. Adding Arcadia's UK headquarters to our growing portfolio is an excellent result and further reinforces our expertise and high-quality delivery credentials."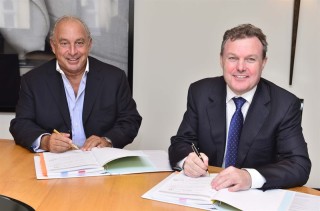 ISG has developed a multi-phased programme to enable Arcadia staff to remain in occupation within the building throughout the duration of the scheme. A systematic top-down approach sees the contractor carrying out significant enhancements at roof and sixth floor level, before progressing down the building to deliver a further three floors of high specification office accommodation and a corporate reception area at ground floor level.
The transformation of Colegrave House, designed by Sheppard Robson architects, with Gardiner & Theobold consultant for the scheme, includes the construction of two glazed roof structures over existing courtyard areas within the centre of the building, creating a pair of full height atria. The south atrium will have a sculptural spiral concrete staircase linking all floors (pictured below).
The 155,000 sq ft Cat B fit out programme, incorporates a full strip out of the existing accommodation, to replace all mechanical and electrical services, raising the building's BREEAM environmental performance rating to 'very good'. Floors three to five have mainly open plan office space, with a number of cellular offices and break out areas. The interior design brief for the office has an 'exposed surfaces' theme and ISG will be stripping out suspended ceilings to reveal exposed concrete soffits with visible ductwork within many of the office areas.
Structural alterations will be carried out across the sixth floor to create enhanced circulation space and improved sight lines via the removal of a number of supporting columns. Within the executive area of Arcadia's headquarters, ISG will deliver an exacting and high specification fit out, which includes the installation of new curtain walling, boardrooms and executive offices.
Although not architecturally protected, the building incorporates a number of internal features that are of special interest, including a marble staircase with decorative metal balustrades, which ISG will protect during the project and sensitively restore to original condition.
Sir Philip Green said: "All of us here at Arcadia Head Office are excited by the prospect of this innovative and dynamic HQ. Our design teams have worked closely with ISG, Sheppard Robson and Gardiner & Theobold to create a space that draws on our experience as fashion retailers and look forward to creating a truly 21st century working environment."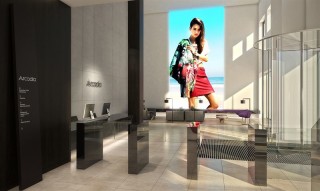 Got a story? Email news@theconstructionindex.co.uk