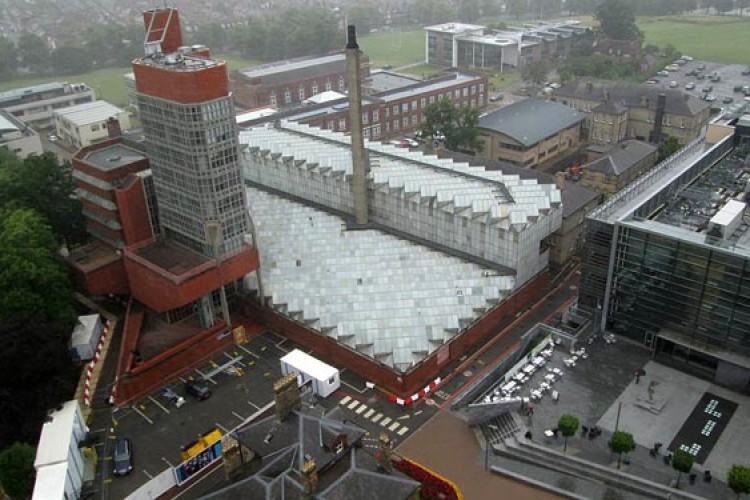 Contractor Lendlease and consulting engineer Arup have been trusted with leading the £19.5m project to give the 1960s building another 50 years of functional life.
The Grade II* listed building was designed by architects James Stirling and James Gowan and is regularly cited as one of the most important buildings of the 20th century because of its innovative use of glazed diamond-shapes on the roof to maximise natural light from the north.
After months of scaffold erection and safety net installation, Lendlease is now set to start work on replacing each of the 2,500 glass panels. The project is expected to take until the end of 2016 to complete.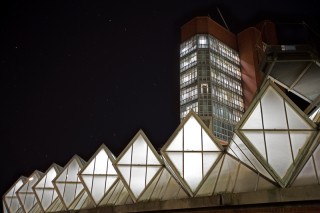 Such is the building's historic status that the university has developed a project charter with its management contractor Lendlease, the other trade packages and the key stakeholders. All parties are being asked to sign a pledge showing their commitment to working in partnership on this significant development and to maintaining the historic building's status.
The glazing system for the roof is a bespoke installation where no empirical industry standards can be applied.
A fabric envelope around the building will be mounted on a bespoke scaffold to protect against the weather and to ensure work can continue throughout the year. This and the innovative use of a tensile netting under the roof line will allow the building to remain occupied and operational with students at all times during construction.

The photograph below shows the high strength netting being installed in the main workshop to protect the workforce above and the working people and equipment below.  The super strong netting shown in the picture can easily bear the weight of a fully laden car.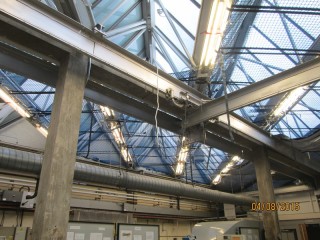 University estates director Trevor Humphreys said: "The university takes very seriously its responsibility to care for this world famous building. This highly complex, sensitive and logistically challenging project has been meticulously planned over several years.  We have engaged a highly competent consulting team and our partnership with Lendlease to replace the roof will ensure this building remains available for our engineering students to study and learn in, as well as preserving the building for future generations."
Project manager Pete Bale said: "This is a 'once in a lifetime' project with multiple stakeholders both within the university, the City of Leicester and nationally all of whom have aspirations that rightly need to be satisfied. It is very exciting that we are travelling the road that Stirling & Gowan trod all those years ago, in that we are producing the solution to an inspirational concept design, to modern performance and health & safety requirements, that has never been done before. I am confident that the replacement roof will be the best solution available, true to and as inspirational as the original."
Department of Engineering head Helen Atkinson added: "Stirling and Gowan designed the building around the fact that it was for an Engineering Department. For example, the height of the tower was determined by the head of water required for thermofluids and hydraulics experiments and the interior of the building very much reflects the industrial aesthetic. The design has generated much controversy and architects come from all over the world to see it. It has even featured on a postage stamp. We are proud to be educating engineers for the 21st Century in this iconic building."
In the short firm below, architect Alan Berman explains the building's significance:
Got a story? Email news@theconstructionindex.co.uk