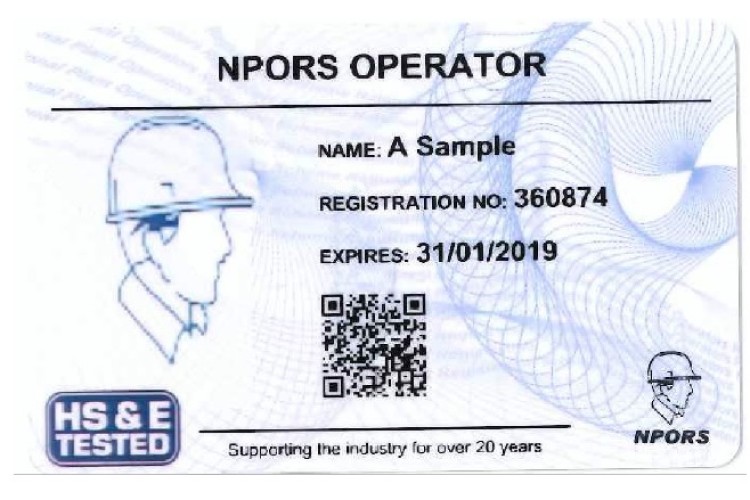 Following detailed discussions, the NPORS is now a UKCG 'accepted record scheme'.
The move brings to an end what has effectively been a monopoly for the Construction Plant Competency Scheme (CPCS) for the most general types of construction machinery. Until now, a CPCS card has been a requirement to operate a digger, dump truck or crane on a major UK construction site.
With this new agreement, an NPORS card will also be equally acceptable.
UKCG member sites account for a third of UK construction total output.
NPORS Ltd is an accreditation body with its own plant operator training scheme that it controls. It was established in 1992 and is privately owned by its chief executive Stan Chapman. The rise of CPCS, which is industry-owned and managed by the Construction Industry Training Board, threatened its viability in the construction industry. So long as only CPCS cards were recognised on major sites, an NPORS card was of limited value in construction, although it also has a presence in other markets, such as ports and harbours, utilities and factories.

For a time, NPORS was involved in a former incarnation of CPCS, but no longer provides any training for the new version of the CPCS.
UKCG head of safety, health & environment David Lambert said that the major contractors wanted to "ensure there are no unreasonable barriers" when it comes to plant operator certification. He said that having two separate approved card schemes, in competition with each other, would promote efficiency and make life easier for site managers.
Mr Lambert said that NPORS had worked hard over the past couple of years on the standards of its training programmes.
NPORS technical, training & standards director Huw Jones said: "We're extremely pleased with the UKCG's decision to recognise the NPORS card, which we believe reflects the quality of NPORS training and its credibility within the industry. The uptake of the NPORS card has increased significantly over recent years and the fact that our training will reach even further into the construction sector is excellent news for everyone connected to NPORS, as we all share the same goal of seeing standards continually raised in relation to the safe, competent use of plant machinery."
Earlier this year NPORS launched a 'smart card' for operators with a QR code on the front for quick security checks. When scanned by a QR reader, it opens up a web page showing the operator's photograph, name, registration number, card expiry date, categories and qualifications held on the NPORS database.
Got a story? Email news@theconstructionindex.co.uk