The academy will be used for youth development as well as first team training.
The project covers an 80 acres site and includes a 7,000-seat stadium, 15 full size football pitches, sleeping accommodation for six dozen players, gymnasium and swimming pool, injury rehabilitation centre, refectory and changing rooms. It also includes communal facilities of a sixth form college and swimming pool.
BAM saw off competition from Carillion, Laing O'Rourke and Bowner & Kirkland to win the job. Project manager is Christal Construction Management.
"Today is an extremely important day for the future of Manchester City Football Club," said club CEO Ferran Soriano (pictured signing the deal, below right). "The development of young and home grown players is central to our strategy of creating both a winning team and a sustainable football club - an ambition outlined by Sheikh Mansour at the outset of his ownership in September 2008."
"We are now in a position, after four years of research and planning, to execute that strategy and we are delighted to join with BAM who will play a large part in helping us to do so."
BAM chief executive Graham Cash (pictured signing the deal, below left) said: "Our customers value BAM because our people do whatever it takes to deliver our customers' expectations. We are delighted to be part of the team that will deliver the City Football Academy and we will work hard to play our part in delivering MCFC's vision of both developing the players of the future and helping to regenerate the community of East Manchester."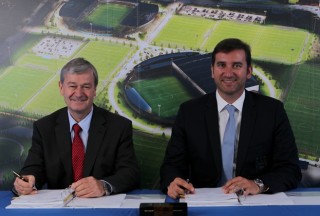 Remediation of the site over the past year has already created 49 jobs, all of which were recruited within the local community and 34 of which were taken up by the previously long term unemployed.  A minimum of 160 further construction jobs will be available for which a minimum 70% local recruitment target has been set.
Additional employment opportunities for local people will arise with the creation of around 95 permanent positions ranging from landscaping, arboriculture and water management to administration, security and site management.  Again, a minimum 70% local recruitment target rate has been set.
Soil, which was once purple with dye has now been cleaned, fertilised and is ready to sustain growth.  No material has left the site.  Instead, material has been cleaned, recycled or reworked for repeat or new use within the site.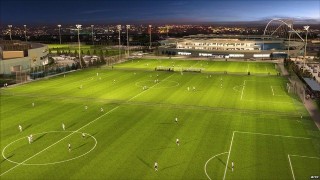 Got a story? Email news@theconstructionindex.co.uk