The French manufacturer has been looking to ramp up its market presence in the UK since buying Terex GB's Coventry operations at the start of 2017
Gregg Horne, general manager of what is now Mecalac Construction Equipment UK (MCE), said: "Introducing new products to the UK market comes as part of a long-term corporate strategy to meet changing sector requirements and provide innovative solutions to support operators nationwide."
He added: "Each model from the Group Mecalac portfolio is proven, flexible and designed to perform perfectly for challenging urban environments. We're confident that the range will be well-received by professionals across the country, who recognise the benefits of adopting new technology to minimise job time and improve performance."
Mecalac's loader and excavator line-up is:
Mecalac MTX – The MTX (pictured below) is a combined excavator, loader, forklift and tool carrier in a single machine. It has an articulated boom and frame with a low centre of gravity. With a tilting angle of 140º, the machine loads without obstructing the operator's view. A quick coupler enables attachment changes, while the articulated chassis provides manoeuvrability.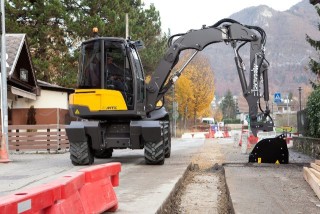 Mecalac MCR – A crawler-excavator combination, the MCR can switch from compact tracked excavator with a speed of 10 km/h to 360° loader. Available in three model variations – 6MCR, 8MCR and 10MCR – each unit is powered by a 55kW engine. Maximum tearout force in excavator configuration is 2,580daN.
Mecalac MWR – The MRW has a new wheeled chassis. Four models are available – 7MWR, 9MWR, 11MWR and 15MWR – where the number represents tonnage. The transmission of the 7, 9 and 11 MWR is a closed hydrostatic system. Standard fitment is two-wheel steer, but a four-wheel steer with crab option is available.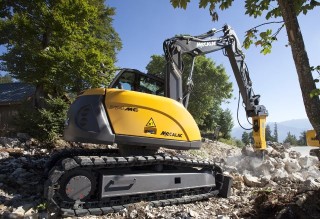 Mecalac MCe – Mecalac's tracked crawler-excavator, the MCe (above), has a tail swing radius of only 1600mm and is capable of full rotation in less than a 3220mm space envelope. This means it can operate within a single traffic lane.
Mecalac AX-AF – The articulated Mecalac wheeled loader range – AX 700, AX 850, AX 1000 (below), AF 1050 and AF 1200 – has bucket volumes between 0.7m3 and 2m3 and an overall height less than 2.5 metres to 2.7 metres.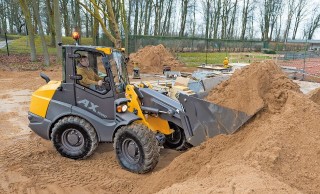 Mecalac AS –Mecalac claims that its AS range is 'the most technologically-advanced swing loader in the world'. A full load can be collected, transported and swivelled 90° without loss of stability. The portfolio includes five models – the AS 50, AS 700, AS 900, AS 1600 and AS 210e.
Mecalac AT – Two models are available – the AT 900 and AT 1050 – designed for confined environments. With the newly developed Mecalac P-kinematics, high and constant tear-out and reset forces and a constant force curve across the tipping range are claimed.