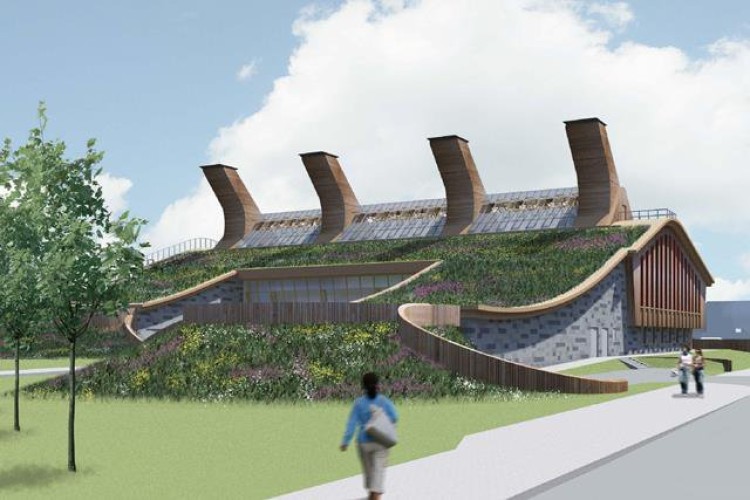 The £20m GlaxoSmithKline Carbon Neutral Laboratory of Sustainable Chemistry was under construction on University of Nottingham's Innovation Park.
Morgan Sindall began construction in September 2013 under a £16m contract and was expected to complete in early 2015. (See report of contract award here.)
Nottinghamshire Fire & Rescue Service was called out to a blaze at the site at 20:35 BST on the evening of Friday 12th September.
Firefighters were able to stop the fire spreading further but could not prevent the building being totally destroyed. The building that was designed to be carbon neutral was reduced to little more than carbon itself.
There were no casualties.


University registrar Dr Paul Greatrix said: "To put this loss into perspective, we need to remember that this was one building, that thankfully no one was injured and that the fire was prevented from spreading further on to campus."
He added: "This is a setback for us but one from which we have no doubt we will recover. The University of Nottingham has an international reputation for scientific excellence, underpinned by the world-leading expertise of our academics. It is upon those strong foundations that we will rebuild and renew for the future.
"The GlaxoSmithKline Carbon Neutral Laboratory for Sustainable Chemistry is a landmark building which is the embodiment of the University's commitment to sustainability in all its forms, particularly in the area of green chemistry and we will be working closely with our partners at GSK, and the contractors Morgan Sindall, to develop a positive plan of action for rebuilding."
Picture below is a photo of the blaze posted on Twitter.
Got a story? Email news@theconstructionindex.co.uk