Network Rail Infrastructure Ltd (NRIL) is using an alliance contracting arrangement to procure the programme of works and ancillary services and supplies relating to the Wessex Capacity Programme.
The overall project is required to increase train and passenger capacity at London Waterloo Station and across the Wessex route.
The works involve bringing the mothballed Waterloo International Terminal back into use for domestic train services, increasing the length of some platforms at London Waterloo Station, alterations to the track, signalling, communications, buildings and civils infrastructure on the Wessex Route and at Waterloo, Vauxhall, Clapham Junction, Richmond, Wimbledon and Surbiton Stations.
The estimated value range for this work is between £200m and £300m. There is also the potential for an additional £100m of work if the option to take on an associated grade separation project at Woking is included. The design for these works is included in the main contract.
The aim is to start work in January 2015 and complete by the end of March 2021.
Wessex route serves the long-distance routes of London Waterloo to Portsmouth, Southampton, Weymouth, Salisbury and Exeter. The North Downs line links Reading and Guildford to Redhill/Gatwick Airport. The South West London commuter routes are divided into Main Suburban for the lines branching to Shepperton, Hampton Court, Chessington South, Epsom and Guildford via Effingham Junction and Windsor Lines for services to Reading, Windsor, Weybridge and Aldershot via Hounslow or Richmond. The route is geographically similar to the South West Trains network although First Great Western, Southern and CrossCountry also serve stations on the route.
The 10-car suburban project will provide 10-car capability on the whole of the suburban network providing additional capacity for services into London Waterloo. This will include platform extensions at London Waterloo to facilitate full 10-car capability for suburban services at the station.


Significant investment will also be required at Wimbledon and Clapham Junction stations to reduce congestion at these locations.
Integration of Waterloo International station will see an additional five platforms for domestic use, and the consolidation of signalling control to the Basingstoke Rail Operating Centre will improve efficiency. Resignalling in the Waterloo area will improve operations into and out of the station.
Longer intermodal freight trains also come into actions as more deep sea containers arrive at Southampton docks. The electrification of Reading to Basingstoke and later potential electrification from Basingstoke to Salisbury and Southampton will allow freight services with electric traction to operate.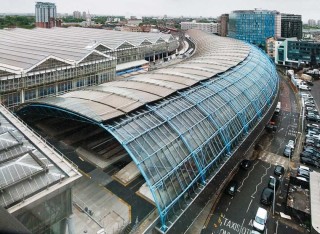 Waterloo International, pictured above, was designed by architect Nick Grimshaw and built by Bovis for £120m but had a short life. It opened in 1994 as the London terminus for Eurostar international train services. It was closed in 2007, after just 13 years of service, when the High Speed 1 Channel tunnel rail link opened and St Pancras and Stratford become the London stations for Eurostar.
For more details of the Wessex Capacity Programme contract see our Contract Leads section, here.
Got a story? Email news@theconstructionindex.co.uk