The vehicle is powered by a 290kW (394hp) straight-six engine, driving through a Mercedes PowerShift 3 automated transmission. It is capable of delivering 140m3 of concrete at distances of up to 41 metres. Its five-section 'RZ' folding boom is specifically designed to unfold in restricted areas, making it ideal for use where there is limited headroom.
The pump and placing boom were built in Italy by Cifa, part of China's Zoomlion group, and fitted by the manufacturer's agent, Danfords, in Hertfordshire.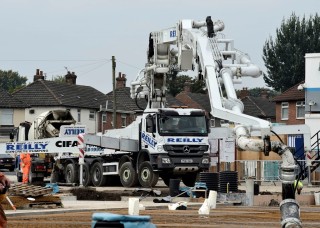 Reilly runs a fleet of 40 vehicles from 10 depots nationwide. All but four of its trucks are by Mercedes-Benz, including the biggest, a special five-axled, V8-powered Actros 4151 supplied by Ciceley last year. This truck started life as an 8x4 but had to have its chassis extended, and the extra axle fitted, to accommodate its 52-metre Cifa pumping unit, which can deliver 180m3 at the point of discharge.
"Mobile concrete pumps are expensive pieces of equipment and have to work hard over a long life cycle to repay the amount we invest in them," said St Helens depot manager Paul Beard. "Mercedes-Benz chassis have proved themselves to be well up to the task in our fleet – a few of our vehicles are eight years old, still working hard and performing well."
Got a story? Email news@theconstructionindex.co.uk