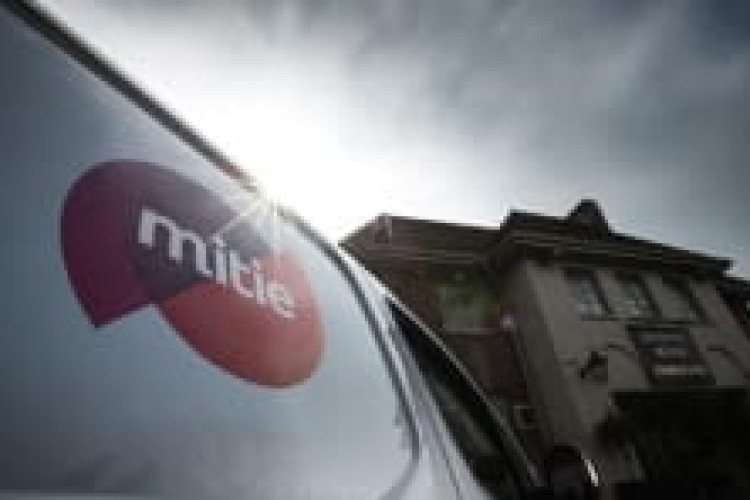 A new leadership team was installed at Mitie at the end of 2016, with Phil Bentley joining from Cable & Wireless to replace Ruby McGregor-Smith as chief executive.
Since moving in, Mr Bentley's team has completed a strategic review, launched a new strategy (Beyond FM…to the Connected Workspace) and begun a £45m cost cutting drive (Project Helix).
The strategy involves introducing more technology into operations, from hand-held devices for capturing and recording data to using drones for pest control.
The reported operating loss of £42.9m (2016:  £107.6m profit) is attributed to one-off accounting adjustments.
Group revenue was £2,140m, which was up 0.3% on the previous year, on an adjusted basis.
With numbers similarly adjusted to better compare like-with-like, operating profit fell by £13.2m to £82.0m (2016: £95.2m) due to lower gross margin (£10.7m) and increased overheads (£2.5m).

Mitie also took a £132.3m hit by quitting the domiciliary healthcare market.
Chief executive Phil Bentley said: "This has been a challenging year for Mitie. We have reported a loss as a result of the one-off accounting adjustments arising from the Accounting Review. We are now focused on the future of the business and I am encouraged that our order book has held up and our pipeline is growing."
Mitie's property management division made an operating loss of £4.5m 'before other items' on revenue of £257.6m. The engineering services division made an operating profit of £200,000, before taking into account 'other items', on revenue of £797.4m.
In the results statement, the board said: "Over the next 12 months, our focus is on getting the basics right. The business is embarking on a multi-year transformation programme, designed to standardise and simplify our operations to deliver the most efficient and effective service, at the lowest cost to our clients.
"This will begin with the integration of our core workforce, to create a highly flexible and skilled team with the optimal support systems. We will automate work flow management for scheduling, tasking and billing. Our engineers will have the necessary training and tools to operate in the safest and most effective manner and deliver the highest quality of service for our customers.
"Longer term, our vision is to use technology to link outputs to the Connected Workspace, providing the most responsive and valued service in the market. By using a combination of existing building systems and environment sensors, along with energy data, asset data, and workplace data, we will provide tailored solutions to suit each client's unique requirements."
Got a story? Email news@theconstructionindex.co.uk