They are designed to provide greater stability to piling rigs, especially in applications where a greater reach is required.
The new LX range has three models: LX30, LX40 and LX50. They are capable of driving steel, concrete or timber piles in a variety of soil conditions, BSP says, while an efficient hydraulic system gives low energy loss and a low running cost.
The cage and dropweight design gives the hammers have a short overall length. Design of the cylinder, dropweight connection and shock absorber provide easy access for maintenance, the manufacturer says. The hammers can be fitted with a single acting hydraulic system to give an equivalent stroke of 800mm or alternatively a double acting cylinder can be fitted to give an equivalent stroke of 1.2m. 
In addition, a range of standard drive caps and pile helmets are available for the LX range, which can be operated from BSP power packs or from hydraulic piling rigs or cranes.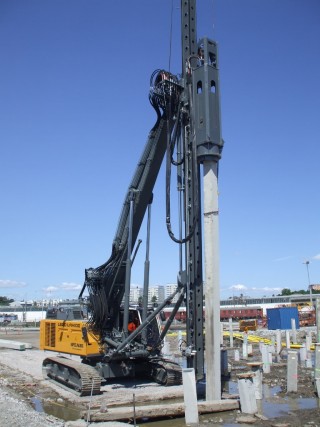 LX specifications
Model

Ram mass
(kg)

Approx
op weight (kg)
c/w Helmet 

Impact energy
with SA/DA
cylinders (kNm)

Blow rate
SA/DA cylinders
(b/min)

Operating
pressure
(bar)

Overall
length
(m)

LX30

2500

6710

20

55-65

120

4.8

LX40

3000

7210

27

52-62

140

4.85

LX50

4000

8210

33

50-60

160

4.95
Got a story? Email news@theconstructionindex.co.uk