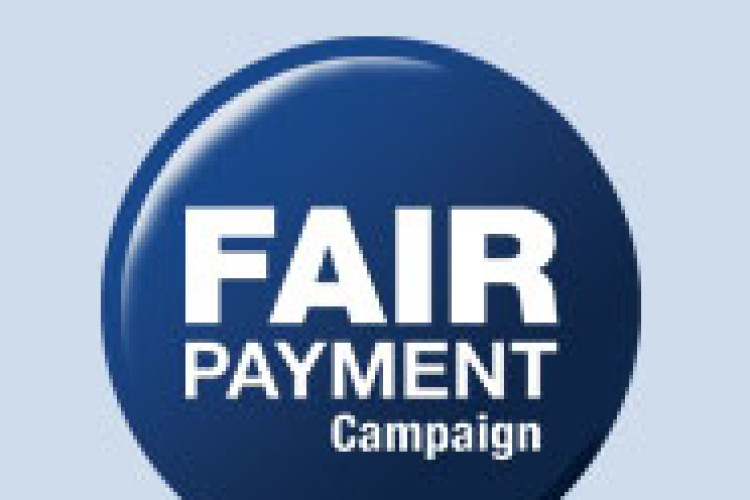 The Construction Supply Chain Payment Charter has been agreed by the Construction Leadership Council (CLC), the body set up to deliver the government's industrial strategy for construction.
The charter sets out 11 'fair payment commitments'. These include a commitment to reduce payment terms to a supply chain to 30 days from January 2018. The charter also sets out stages before this: terms of 45 days from June 2015, and 60 days with immediate effect.
Other commitments made in the charter include not withholding cash retentions, not delaying or withholding payment, and making payments electronically.
Any organisation that becomes a signatory to the charter agrees to apply the fair payment commitments (listed below) in its dealings with its supply chain; to be monitored for the purposes of compliance by reporting against a set of agreed key performance indicators (KPIs); and to consider the performance of its supply chain against those KPIs when awarding contracts.
Philip King, CEO of the Institute of Credit Management, will now lead work on the development of monitoring arrangements for the commitments made by signatories to the charter.
Companies represented on the Construction Leadership Council that have agreed to sign up to the charter are:
Barratt Developments
Berkeley Group
British Land
Imtech UK
Kier
Laing O'Rourke
Skanska
Stanford Industrial Concrete Flooring
Stepnell.
Peter Hansford, the government's chief construction advisor, said: "This charter signifies the Construction Leadership Council's commitment to small and medium-sized business, and the important role they play in the construction industry.
"Through the council, the government is working very closely with industry to give businesses of all sizes the confidence to invest – securing high skilled jobs and a stronger economy for everyone."
In a joint statement, Laing O'Rourke chief executive Anna Stewart and Skanska chief executive Mike Putnam said:  "The work undertaken on the Supply Chain Charter has been an important part of what the Construction Leadership Council hopes to achieve by 2025. By publishing the charter, the council is setting out a clear position, and is encouraging others to follow.
"No one section of industry and no one representative on the council can, in isolation, achieve the transformation we're after – it will require everyone working together, across industry and government, including clients, contractors and the supply chain."
Kevin Louch, president of the National Specialist Contractors Council added: "Many within the industry, and not just specialist contractors, want to see 30-day payment terms on all construction projects, but we recognise that it will take time for large businesses to adjust their business models over the next few years.
"Many clients already pay in 30 days and we would like them to make public their commitment to the new payment Charter and give the industry the confidence to pass that payment through the supply chain to those delivering their projects on site. I am delighted to have played a role in delivering the charter and moving our industry forward on this fundamental issue."
This is the undertaking that signatories to the Construction Supply Chain Payment Charter are making:
FAIR PAYMENT COMMITMENTS

We agree that on all new construction contracts from 1 January 2015 we will meet the fair payment commitments set out below.
1)         We will make correct full payment as and when due for all work properly carried out, or products supplied, in accordance with the contract.  We will ensure any withholding of payment due to defects or non-delivery is proportionate, and clearly, specifically and demonstrably justified in line with the arrangements set out in the contract.
2)         We will not deliberately delay or unreasonably withhold payment.
3)         For all new contracts we will ensure that payments are made to our supply chain not more than 60 calendar days from the end of the Calendar month in which the work is carried out or products are supplied.  From June 2015 we will ensure that payments are made to our supply chain not more than 45 calendar days from the end of the calendar month.  From January 2018 that will decrease to not more than 30 days. 
4)         Public authorities are already required to pay within 30 calendar days .  On central Government contracts, payment will be made to Tier 1 within 14 days, to Tier 2 within 19 days and to Tier 3 within 23 days of the due date, which will be 7 days after the common assessment or valuation date established by the client in the Tier 1 contract .
5)         We will either not withhold cash retention or ensure that any arrangements for retention with our supply chain are no more onerous than those implemented by the client in the Tier 1 contract.  Our ambition is to move to zero retentions by 2025.
6)         We will issue any 'pay less' notices at the earliest opportunity and no later than 7 days prior to the final date for payment .
7)         We will have processes in place to enable the effects of contract variations to be agreed promptly and fairly and payments for such variations to be included in the payment immediately following the completion of the varied works.
8)         We will make payments electronically unless agreed otherwise.
9)         We will use Project Bank Accounts on central Government contracts unless there are compelling reasons not to do so  and on other contracts where appropriate.
10)       Where Supply Chain Finance schemes allowing members of the supply chain to secure earlier payment are offered, we will not impose fees or costs for receiving payment within the terms set out in the contract.
11)       We will adopt a transparent, honest, and collaborative approach when resolving differences and disputes.
Got a story? Email news@theconstructionindex.co.uk