The 178-metre long and 76-metre high tunnel-slide has been added to the landmark in a bid to generate some revenue and help recoup costs. Tickets are now on sale at £10 a pop for 40 seconds of fun.
The ArcelorMittal Orbit Slide opens for rides on 24th June 2016.
The slide is made from 30 sections of stainless steel tube, each 800mm diameter by 3mm thick. Each is between five and nine metres long and were lifted into place by a team of specialist abseilers, using ropes and pulleys that were specially designed for this construction project.
The slide has been designed by German-Belgian artist Carsten Höller. It twists and turns 12 times, including a tight corkscrew section named the 'bettfeder' – after the German word for bedspring. It ends with a 50-metre straight run to the ground.
The initial concept of having the slide wrap around the tower was jettisoned because of its detrimental structural impact. Instead it just squiggles down one side.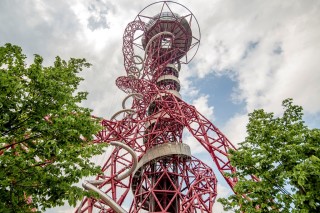 Construction was supervised by Mace, whose project manager Derry Power said: "This iconic project is not only going to provide another fun destination for the local community and visitors at Queen Elizabeth Olympic Park, but shows great collaboration between artists, designers, engineers, project managers and specialist contractors. The collaborative project team has worked tirelessly to design, develop and install a slide which will symbolise a lasting legacy at the park for years to come."
Others may see it as a metaphor for Boris Johnson, the former London mayor..
Got a story? Email news@theconstructionindex.co.uk