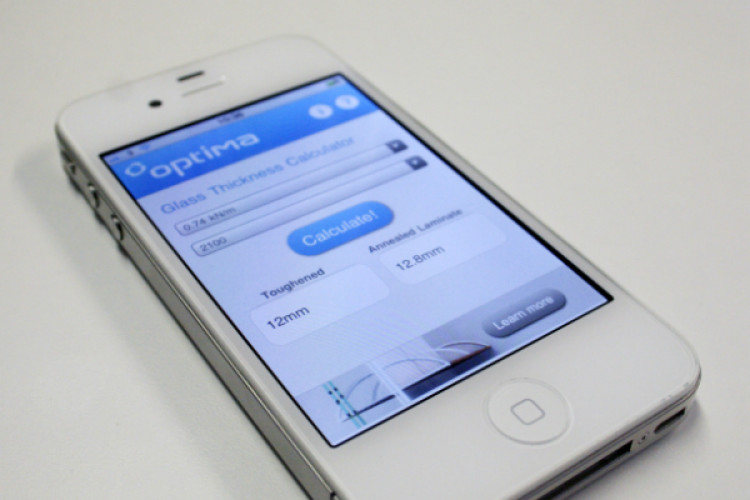 Launched by Optima Systems the new Glass Thickness Calculator app will enable architects, designers and surveyors to quickly ascertain the required thickness of partitioned glass using an iPhone.
Designed in response to the need for a way to quickly and effortlessly produce concise calculations on the thickness of glass, users will be able to calculate a safe glass thickness based on the load being applied and the height of the glass.  The easy-to-use app will then recommend a glass thickness for both toughened and annealed glass.
The introduction of the app is a time saver for surveyors, architects and designers who will no longer need to contact the Optima team to give accurate calculations.
'This simple to use tool will take the hassle out of specifying glass thickness' said Christian Mabey, Optima's Divisional Sales Director. 'The app offers exceptional usability and is further testament to Optima's approach to our customer's needs.'

The launch follows on from the success of OptimaPad, which was released earlier in 2011 as a slick, user friendly and cost efficient way to update the Optima sales team with all the latest Optima literature as well as showcase Optima products and services using video content and interactive material.
In October, OptimaPad was shortlisted for a Construction Marketing Award in the category of 'Best Use of Technical Information'.
The Glass Thickness Calculator app is exclusively available on Apple devices including the iPhone, iPad and iPod touch and it can be purchased for free via the Apple iTunes store.
Got a story? Email news@theconstructionindex.co.uk