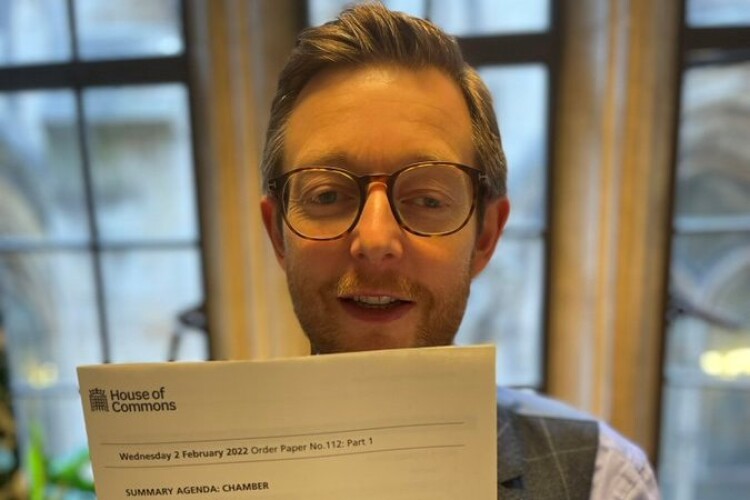 The Carbon Emissions (Buildings) Bill, presented by Duncan Baker, Conservative MP for North Norfolk, received its first reading in the House of Commons yesterday (2nd February) and is scheduled for second reading on Friday 18th March.
Baker's 10-minute rule bill seeks to regulate embodied carbon in the building process. It will require the whole-life carbon emissions of buildings to be reported and for the first time require the construction sector to set a limit for embodied carbon.
If it comes into law, it would become the Part Z building regulation that many people have been advocating, including the Climate Change Committee. Part Z proposals have been supported by some within the construction industry as well, including Morgan Sindall, Laing O'Rourke, Lendlease and Land Securities, among others. (See part-z.uk.)
Duncan Baker explained to the House of Commons that 40 to 50 million tonnes of greenhouse gas emissions carbon emissions a year are due to the construction, maintenance, refurbishment and demolition of new and existing buildings and infrastructure in the UK – more than the entirety of the UK's aviation and shipping combined.
He said: "Collectively, that is known as embodied carbon, so called because the materials that we build are the physical embodiment of such greenhouse gas emissions. Most embodied carbon emissions are in the construction of the building itself. For a typical new build constructed today, embodied carbon accounts for half the total emissions that the building will be responsible for over its entire lifetime. In some buildings, that same amount is released before the building is even occupied. Currently, those embodied carbon emissions are completely unregulated. The law places no restriction whatsoever on how much embodied carbon can be emitted when we construct a building."
He concluded: "It is time now to regulate embodied carbon."

In an article on his website, Duncan Baker explained further: "My bill is looking to bring in the legislation that will enable the industry to have a clear requirement to measure, report, and reduce against aligned targets of embodied carbon – bringing construction regulation in line with the UK's wider decarbonisation plans.
"The industry is telling government that they want this, and as a way to continue our world-beating decarbonisation strategy, the regulation of embodied carbon in the construction sector is a timely and tremendous opportunity for the United Kingdom to continue to be a world leader in cutting carbon emissions."
David Savage, partner at law firm Charles Russell Speechlys, commented: "This proposed legislation would – if passed – represent a hugely significant step towards net zero for the construction sector, and indeed the UK hitting its carbon emission targets.
"This bill would, for the first time, require the construction sector to measure and report the embodied carbon in its projects – a sector which accounts for up to 25% of UK carbon emissions.
"That said, while climate change is helping the construction sector to evolve and will play a key role in UK decarbonisation, government will also need to look carefully at how to help the sector make these transitions, especially with so many SMEs in the industry who may feel financial and other challenges around implementing these changes."
Got a story? Email news@theconstructionindex.co.uk