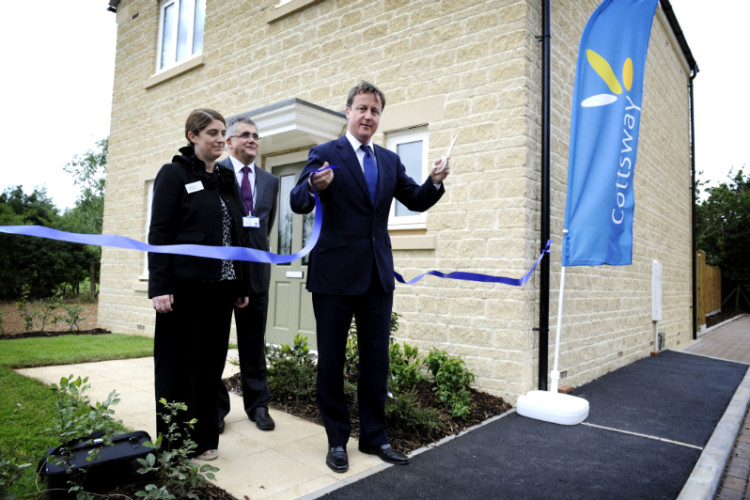 Featuring Tradical Hemcrete an innovative hemp and lime thermal walling system from Lime Technology, the scheme has been delivered as part of the Homes and Communities Agency's Renewable House Programme.
When opening the new development David Cameron commented "This development is innovative and creative and Cottsway is leading the way in providing green homes. It is vital to build new housing in rural areas to help sustain local services such as shops and Post Offices."
The scheme, built by contractor EG Carter and designed by architects Kendall Kingscott, is part of a series of pioneering schemes to create sustainable and comfortable homes with low running costs through the use of carbon neutral products and renewable technologies. The homes have been designed to achieve level 4 of the Code for Sustainable Homes.
A key element of the construction of the new homes was the use of Tradical Hemcrete for the creation of the walls of the homes. Developed by Lime Technology, the system offers a carbon negative method of creating thermally efficient buildings. Its impressive carbon negative credentials are achievable through the use of hemp which absorbs CO² during its growth.

Offering 130kg CO²/m² less than conventional brick and block in a normal wall section along with excellent thermal inertia, meaning buildings' internal temperatures change very slowly helping to reduce the need for heating, the innovative system offers a highly sustainable construction method.
The PM's visit to Blackditch follows Housing Minister Grant Shapps visit last year to The Triangle in Swindon, a 42 unit social housing scheme being delivered by HabOakus, a developer part owned by Grand Designs host Kevin McCloud – a scheme that also features Tradical Hemcrete.  The two visits have reinforced the UK Government's commitment to supporting the use of renewable materials.
Tracy Gordon, the Homes and Communities Agency's Manager - Carbon Challenge and Millennium Communities – commented "It's great that the Prime Minister has seen this innovative, exciting project. This is one of eight projects which formed part of the HCA's Renewable House Programme in England – and will help show the house-building industry how high standards of sustainability can be achieved. To have Mr Cameron visit and praise the scheme is very welcome and well deserved."
Cottsway worked in partnership with West Oxfordshire District Council through Oxfordshire Rural Housing Partnership to deliver the 16 new homes.  The scheme was funded by the Department of Energy and Climate Change (DECC) Low Carbon Investment Fund, DECC Low Carbon Buildings Programme and the Homes and Communities Agency.
Got a story? Email news@theconstructionindex.co.uk