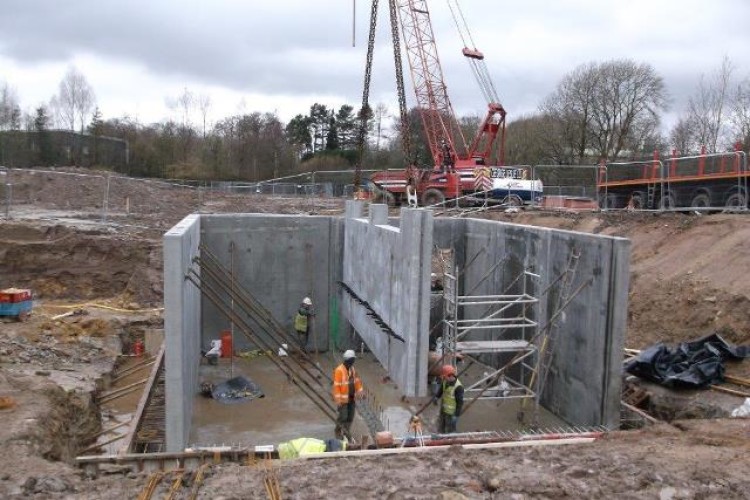 Contractor George Leslie Ltd is using Kijlstra's precast Vario and panel systems on a second phase of works to construct combined sewage overflows (CSO) to handle increased rainwater flows and improve water quality in the River Clyde and its tributaries.
The work forms part of Scottish Water's 'Glasgow Environmental Programme', the biggest investment in Glasgow's waste water network since Victorian times.
George Leslie began work two years ago on two schemes: the Shieldhall UID (unsatisfactory intermittent discharge) catchment scheme on the south side of Glasgow and at the Dalmuir UID catchment in the north of the city.
George Leslie has been using a combination of Kijlstra's Vario and panel system products. Vario CSOs are pre-assembled units measuring up to 5m x 3m and comprising a base unit, four walls, a weir wall and rise units. Installation is rapid and the unit is quickly connected to drainage pipes. The panel system is for larger CSO chambers or where access does not allow the use of a pre-assembled Vario. Although still modular and based on standard components, the panel system is flexible and can be installed with either a pre-cast or an in-situ base slab.
Kijlstra supplied precast Vario and panel systems for 10 combined sewage overflows (CSO) during the first phase of works. It is now supplying products on the next phase of works on four CSO chambers. This includes, within the Dalmuir UID catchment: a 12m x 3.5m panel chamber for the Greenlaw Road CSO; a 3m x2m panel chamber at Kessington Road CSO; and an 11.5m x 4m chamber at Dock Street CSO .  In addition, a 5m x 2.5m Vario chamber has been supplied to the Falside Road CSO, which falls within the Paisley UID catchment, which is a separate package of works being delivered by George Leslie.

Client Scottish Water chose precast after trial installations demonstrated benefits in terms of quality, efficiency and safety.
"The old way of installing CSO chambers is to use in-situ concrete within the excavation," explained Kijlstra business manager Steve Righton. "That is slow, labour intensive and carries the health and safety risks of prolonged working within an excavation."
Precast components can be delivered to site and lifted into place in a few hours, allowing on-site activity to be completed very quickly and the excavation back-filled in as little as three days.
"At the outset precast units were not the 'usual' way of constructing CSO chambers, mainly due to the bespoke nature of the sizing of the chambers to suit site conditions," said Andy MacLeod of contractor George Leslie. "Chambers were generally kept as small as possible.
"Following some initial meetings between George Leslie and Kijlstra, an understanding of the constraints for delivery of projects led us to a position where the project team were able to select the best form of precast to suit a particular site," he added.
Got a story? Email news@theconstructionindex.co.uk