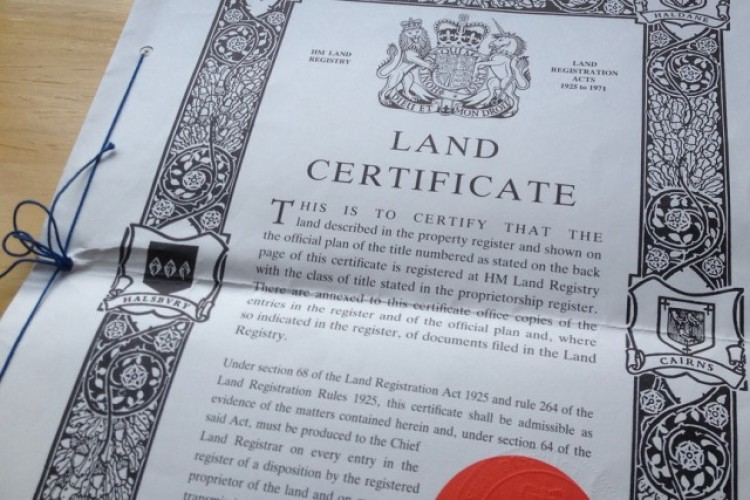 The British Property Federation said that while the service badly needs investment, privatisation is not the answer.
Plans for the £1bn sale were announced in the Queens Speech earlier this month. The measure is to be contained in the Neighbourhood Planning and Infrastructure Bill.  The chancellor has already been forced into a U-turn once on this issue and pressure is mounting for a repeat. A previous move to privatise the Land Registry by the coalition government was blocked by the then business secretary Vince Cable in 2014. With the LibDems out of the picture, George Osborne is having another crack at it, but not without substantial opposition.
A petition against the new move has attracted nearly 300,000 signatures. While some are just opposed to all privatisations, others have specific concerns about what is currently public information about who owns what property no longer being available. All the Land Registry does is store information. A privatised Land Registry will not be subject to the Freedom of Information Act 2000.
With no possibility to shine a light on the Land Registry, the reputation of the UK – and London in particular – as a safe haven for overseas money launderers and oligarchs will be free to continue unchecked.
The specific concern of the British Property Federation (BPF), however, is that they fear investors could be spooked by the perceived threat to the security of property title.

Responding to the government consultation on privatisation, the BPF stresses that security of title is one of the big attractions for overseas investors in UK real estate, who have steadily become more important players in the commercial property market. Security of title underpins billions of pounds' worth of lending to commercial property and if it were undermined in any way, it would make the job of renewing the urban environment considerably more difficult and expensive.
The BPF also points out that over the past few years, there has been a noticeable drop in service quality levels at the Land Registry, and that additional investment is badly needed.
Chief executive Melanie Leech said: "The Land Registry plays a crucial role in ensuring that real estate transactions are transparent and smoothly effected. It also plays an important part in making the UK attractive to those who invest in our towns and cities.
"Our concern would be that in the rush to push through these proposals important questions about the quality of service do not get the airing they deserve. Should the government go ahead with privatisation, it is critical that incentives exist for a new operator to invest in service quality and to retain the Land Registry's deep pool of legal expertise. The Land Registry is often taken for granted but its activities facilitate important and much-needed regeneration across the country."
Got a story? Email news@theconstructionindex.co.uk