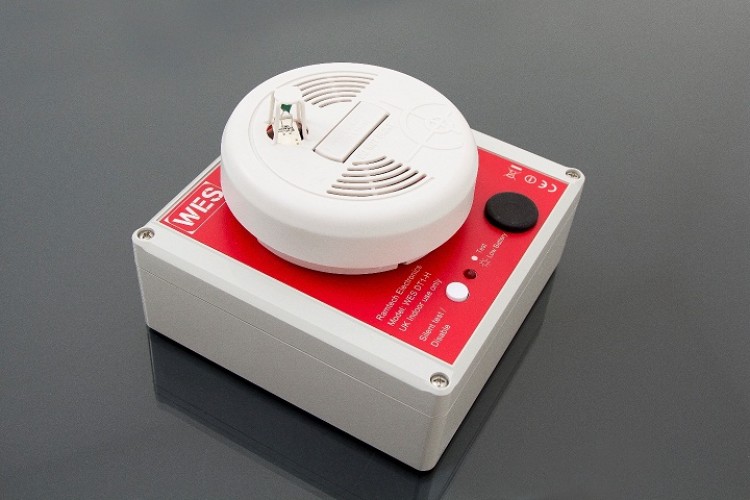 Designed specifically for use on construction sites, the SD1 and HD1 battery-powered smoke and heat alarms hopeto revolutionise conventional hard-wired fire detection systems, as their quick installation means they can be operational in minutes, providing 24 hour protection against fire on site.
The new smoke and heat alarms can also be linked to Ramtech's new GSM Base Station which uses category one radio technology to communicate and identify the location of individual WES units and detection alarms. This makes it easy for site managers to locate a fire or potential fire when an alarm is activated.
The GSM Base Station provides SMS text alerts in the event of an alarm being activated allowing personnel to keep tight control on fire safety when they are off site.
In addition alarm testing and activations can also be tracked via the Base Station which collects and holds alarm activation and testing information which can be easily retrieved on site for audit trail purposes.

Ramtech sales and marketing director Paul Henson explains:"Traditionally, fire detection systems in construction have needed to be installed by electricians or contractors on site. They've often involved various cables and fire points having to be moved during the lifetime of the project and de-installed at the end.
"Our new SD1 and HD1 detection solutions – for use with our WES product range – are easy to fit and operate, have no cables and therefore no installation costs. As the units are incorporated into the main WES network, not only will they give an early warning of fire to all staff during the day, but the site will also remain protected out of hours. Linking with the base station will add to the accuracy and ease of use of the system, this is particularly important with detection as should a fire break out it needs to be dealt with quickly to avoid it spreading. Our system makes this easy and will ensure that should a fire occur damage and disruption is kept to an absolute minimum."
There is no limit to the number of detection units that can be incorporated on the system, making it suitable for the smallest refurbishment job to the very largest multi-storey or multi-site project.
To make reconfiguration easier when moving sites Ramtech has also introduced anew android touch screen tablet operating system for the WES system, enablingthe user to reconfigure and access alarm and testing history from any unit via a USB port.
Got a story? Email news@theconstructionindex.co.uk