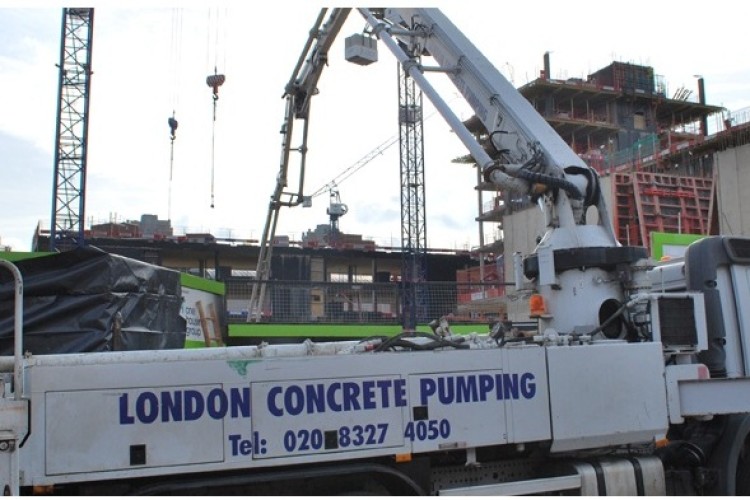 The Hertfordshire company suffered a ruptured delivery pipe on a pumping truck on 24 May 2011, with potentially lethal consequences, prompting the Health & Safety Executive (HSE) to bring a prosecution for poorly maintained equipment.
Westminster Magistrates' Court heard yesterday (10 Sept) that the equipment was being used to pump concrete to the top of a construction site opposite Wellington Barracks, near Buckingham Palace, when the pipe, part of the concrete pump's delivery line, ruptured, spraying the liquid concrete at high velocity over the vehicle and injured a passer-by.
The court was told that on the day of the incident, the pump operator, believing there was a blockage in the pipe released the pressure and started reverse pumping. He could not see the entire length of the equipment and was told by the foreman that a pipe had burst, hitting people with concrete. The debris caused a head injury to a woman and shattered the window of a police car 25 metres away.
The subsequent HSE investigation found that the pipe had been weakened in a separate incident but had not been replaced or repaired. Magistrates were told that the reason for the rupture was due to the company's inadequate maintenance regime which had allowed the pipe to be used. HSE said that this increased the possibility of other machines being operated while in a poor condition.
The make and model of the pump was not specified in the HSE's report of the hearing.

After the hearing HSE inspector Andrew Verrall-Withers said: "It's simply not acceptable for firms to show the level of disregard to people's safety that London Concrete Pumping demonstrated here.
"Its failure to carry out effective maintenance on its plant and equipment meant the company put others at risk and ultimately led to a person being injured.
"Companies have a duty to ensure work activity is not only safe for workers, but also for people in the immediate vicinity. HSE will not hesitate to prosecute companies that fail to ensure both equipment and repair regimes are not up to scratch."
London Concrete Pumping Ltd of Elstree Way, Borehamwood, Hertfordshire, pleaded guilty to breaching section 3(1) of the Health and Safety at Work etc Act 1974. The company was fined £8,000 and ordered to pay £31,000 in costs.
Got a story? Email news@theconstructionindex.co.uk