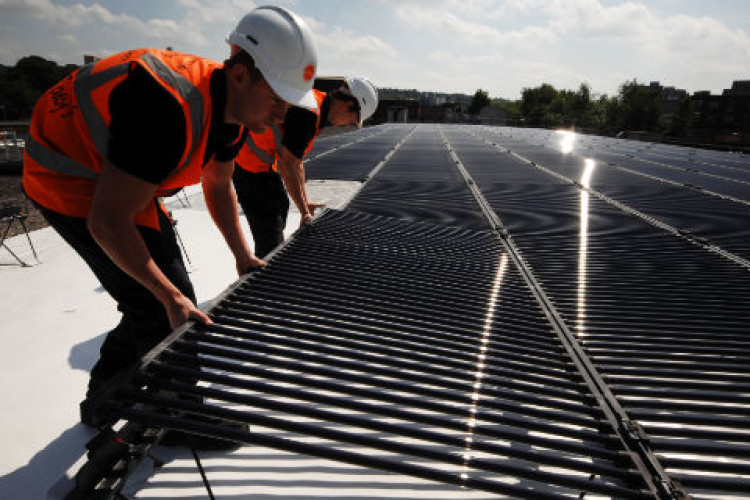 Sainsbury's has installed 69,500 new photovoltaic solar panels, or 16MW of power, across 169 stores in the UK. 
The solar array is large enough to cover Wembley's pitch 24 times and bigger than any other in Europe. It is expected to reduce Sainsbury's total CO2 emissions by an estimated 6,800 tonnes per year.
And it has not stopped yet, with more solar installations planned.
Chief executive Justin King said: "We've already made real progress towards achieving our environmental commitments detailed in our stretching 20 by 20 Sustainability Plan.  This solar rollout is another big step forward.  It makes sense for us - it's good for the environment and for our business and we are actively looking to install more panels.

"We already produce far more solar power than most commercial solar farms. We believe the retail sector should take another look at solar energy as a viable way to reduce its impact on the environment. Supermarkets have the equivalent of football fields on their roofs, many of them underutilised. It's a perfect time to turn that space into something positive.
"Big contracts like this support job creation in the renewable energy sector and are essential for our solar industry to thrive. We believe that we'll see the cost of solar energy reaching parity with the grid on commercial installations like this in the next two and four years, and that may well herald a new boom in the solar industry."
Sainsbury's has also installed more than 40 biomass boilers and has recently announced the roll out of geo-thermal heat pump technology at up to 100 stores, tapping renewable energy from deep underground to provide heating and hot water.  It follows Sainsbury's successful world-first use of geo-thermal technology at its Crayford store, enabling it to supply 30% of its energy from on-site renewable sources.
Got a story? Email news@theconstructionindex.co.uk