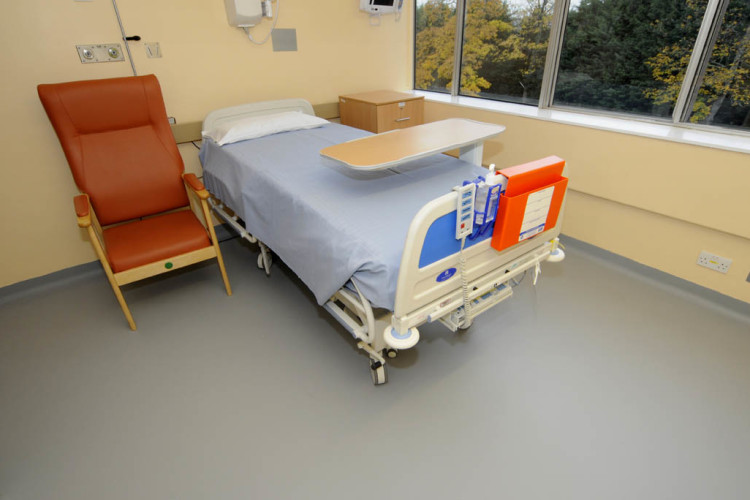 With existing vinyl flooring throughout the building prone to splitting and peeling – resulting in trip hazards and trapping dirt and germs – the hospital undertook the trial of an alternative solution to eliminate these risks, turning to Sika's innovative liquid-applied system.
Combining noise suppression and durability with a flawless finish, Sika ComfortFloor proved to be the ideal solution at the hospital, where exceptional cleanliness is a prerequisite. By installing the ComfortFloor system, Sika has provided a seamless flooring surface – even where it joins with traditional vinyl flooring – that can be easily cleaned, maintained and with exceptional long term performance.
To apply the base coat, Sikafloor 330, the two part solvent free, self-smoothing PUR resin was applied to the floor. Following this, a layer of Sikafloor 305 W was installed as a sealer to the surface, providing a total system thickness of approximately 3mm, with the entire floor completed seamlessly, including liquid-applied cove detailing in place of traditional skirting. In the shower room, the seamless application was continued, with the simple addition of quartz to provide improved slip-resistance in the potentially wet environment.
Designed for interior use, the ComfortFloor system is particularly suitable for environments where hygiene is of paramount importance. Installed as a homogenous flooring solution with no joining or welding, the completed floor is seamless and resistant to cracks and splits. An attractive alternative to traditional vinyl and carpet, it is virtually maintenance free, removing the risk of trip hazards normally associated with the wear and tear of vinyl flooring.

Offering a fast application process, the system is equally suitable for new build and refurbishments as it can be quickly installed whilst causing minimal disruption. It can also be subjected to foot traffic in just 16-24 hours, with a full curing time of 48-72 hours, making it ideal for busy working environments such as hospitals where it is unacceptable for long term ward closures.
Sika ComfortFloor has exceptional noise-cancelling properties of 19 dB, with its chemical composition and texture absorbent impact granting excellent acoustic insulation. It is an ideal choice for hospital wards and noise sensitive areas, where it prevents the transmission of sound for both footfall and impact.
Now complete, the single room in Ward 24 offers high performance flooring that will outperform traditional vinyl for many years to come. Providing a comfortable and resilient surface, the Sika ComfortFloor system will also ensure that the floor remains completely seamless, to make cleaning easy, prevent trip hazards and maintain its stunning aesthetic.
Got a story? Email news@theconstructionindex.co.uk