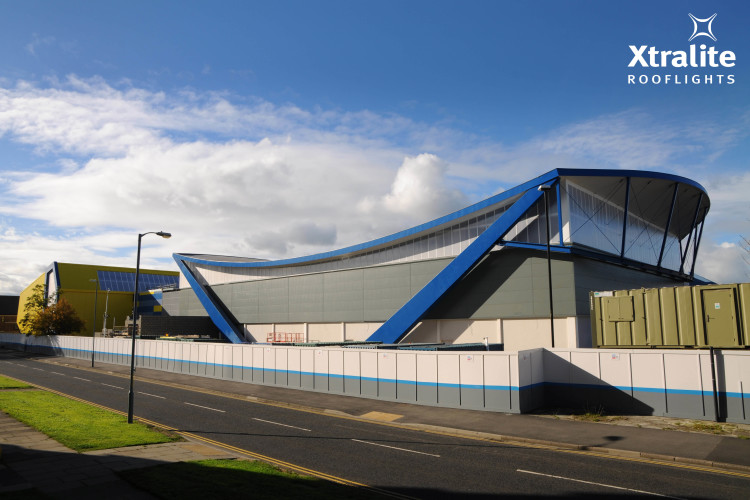 Several options were considered – including complete demolition and rebuild – but following the Grade II listing of the theatre, a full refurbishment was the most suitable option. Sika-Trocal Type S single ply membrane was chosen for the creation of the new roof - with proven performance on refurbishment schemes Sika-Trocal also offers an efficient method of installation.
The large existing roof, including a vast concave area above the ice rink, required a complete replacement. Specialist contractor Roofclad Systems stripped the existing roofing surface before applying the Sika-Trocal Type S membrane. As part of the building is listed and no structural adjustments allowed, Roofclad simply installed the membrane on top of the original building structure.
Roofclad, a Sika-Trocal trained and licensed contractor, installed some 8,000m2 of Sika-Trocal Type S single ply roofing membrane onto the complex, covering the insulation and vapour barrier on the steel decking. To mechanically fix the membrane, which was specified in Slate Grey, and insulation, Roofclad used Sika-Trocal's thermally broken tube fastener and bonding system. This system provides one of the most rapid, safe and economic installation solutions available.

At the Billingham Forum complex, the already extensive project timeframe was affected by extreme weather conditions and structural complications, forcing the construction timetable to be put back by 16 weeks. As such, each aspect of the refurbishment aimed to minimise any delays on the original completion date. Using the single installation system for the mechanical fixing of both the roofing membrane and insulation resulted in a fast installation process that reduced costs and ensured tight deadlines were met.
The £18.5 million refurbishment project has reinstated Billingham Forum as one of the landmark developments in the Tees Valley. Once again offering a comprehensive range of leisure activities in a state-of-the-art facility, the installation of Sika-Trocal single ply membranes ensures the building and its visitors will remain protected for many years to come.
Got a story? Email news@theconstructionindex.co.uk