Skanska was selected by the Papworth Hospital NHS Foundation Trust in December 2013. It has now signed the public-private partnership contract that includes design, build, finance and hard and soft facilities management.
Completion is now scheduled for 2018. When the shortlist of contractors was drawn up in 2010, it was envisaged that construction would be complete in 2015.
It is a £165m project; the construction contract is worth around £140m. Hard facilities management services at the hospital will also be provided by Skanska for 30 years. OCS will provide soft facilities management services.
Skanska's share of the equity investment is £5.5m, representing 50%. Equitix will provide the other 50%.
The hospital will be built on the Cambridge Biomedical Campus. Land for the new hospital was acquired in December 2014, paving the way for work to begin as soon as financial close was reached.
Papworth Hospital, which will cover a 40,000m2 area when complete, will provide 300 beds, seven operating theatres and five catheterisation labs. It will specialise in cardiothoracic care.

Papworth is designed to achieve an EPC 'B' energy rating, the first hospital in the UK to do so. Measures to reduce carbon emissions will include a large-scale ground-source heat pump system.
Skanska UK managing director Terry Elphick said: "We will be consulting with all stakeholders throughout construction, an approach we like to take on our healthcare projects around the world."
Project director Richard Spencer said: "The stunning architecture of the new hospital will showcase a confident civic presence that will help to attract the very best staff and clinicians, and will make Papworth a treatment centre of choice, both within the UK and internationally."
Papworth Hospital chief executive Stephen Bridge said that it had been "a long and stimulating process to get to where we are today" but he very much looked forward to "seeing Skanska turn our dream into a reality".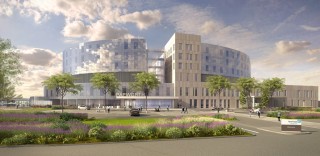 Got a story? Email news@theconstructionindex.co.uk