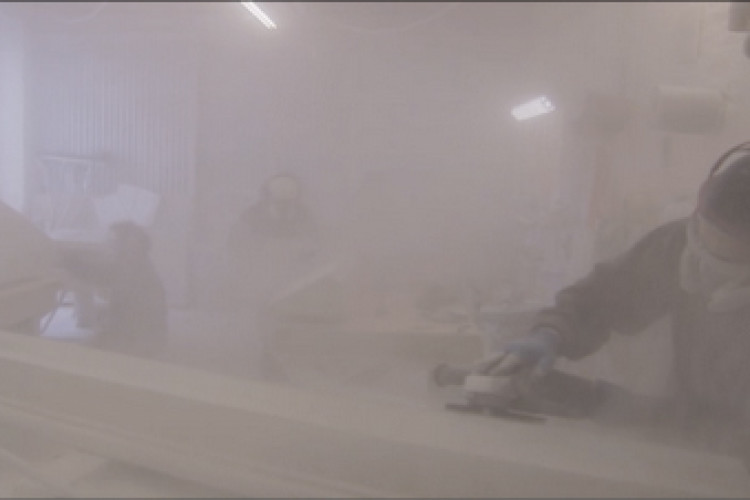 Atelier 109 Ltd, of Main Road, Etton, near Peterborough, featured in March 2010 in the BBC2 series, Mastercrafts, presented by Monty Don. But a viewer contacted the Health & Safety Executive to voice concern over what he saw: inadequate precautions to protect workers from dust that can cause serious lung diseases.
HSE inspectors got round to visiting the company's workshop in May 2010 (two months later) and served an improvement notice compelling Atelier to take immediate action to cut exposure to stonemasonry dust to within the legal limit.
When a further check was made, it was clear that, although improvements had been made, the ventilation system had still not been thoroughly examined and tested, so a second improvement notice was served on 12 February 2011.
When HSE inspectors visited the premises for a third time on 16 June 2011 they found that the recommended action had not been carried out, despite earlier tests revealing that dust levels for employees was up to three times maximum safe levels.

 Atelier Ltd pleaded guilty yesterday (25 October) at Peterborough Magistrates' Court to one charge of breaching section 33 (1) (g) of the Health & Safety at Work etc Act 1974. The company was fined £5,000 and ordered to pay costs of £1,400.10.
After the hearing, HSE inspector Alison Ashworth said: "Atelier were happy to get their moment on television, but rather less quick to protect their employees from a wholly avoidable risk that can have serious consequences and cause respiratory diseases.
"We understand the pressure that small businesses are under and this company was given ample opportunity on a number of occasions to make the necessary improvements. HSE only brought this prosecution when it became clear that the company was dragging its heels and failing to treat this issue with the seriousness it deserved.
"If you are a company and are issued with a notice requiring improvements to be made you can be expect to be prosecuted if you do not comply."
Got a story? Email news@theconstructionindex.co.uk