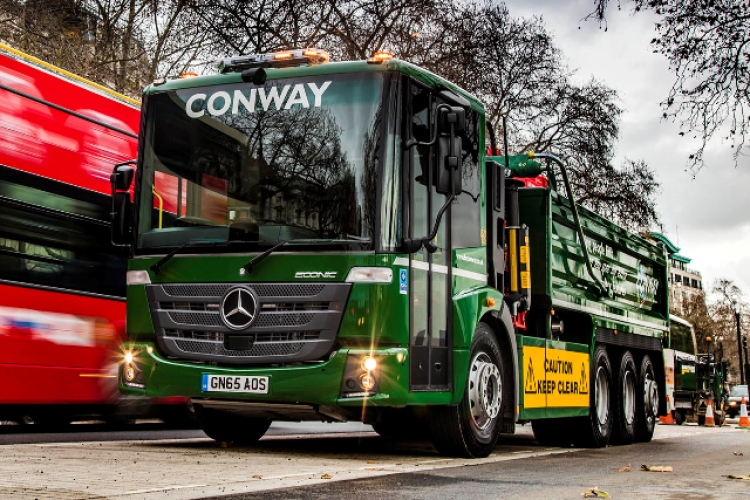 Switching to artics to carry bulk construction materials in London could reduce CO2 emissions by 32% and the number of construction lorries on the roads by up to 37%, WSP concludes.
There is also the potential to reduce the cost per tonne for transport by 30% because while the larger vehicles carry more material, they don't cost much more to operate than the rigid lorries generally used today, WSP says.
Although rigid HGVs still dominate the bulk movement of construction materials in London, the construction industry is already seeing a growth in the use of articulated HGVs.
Transport for London commissioned WSP to look into the potential for using articulated HGVs to carry bulk materials to building sites.

"One of the key issues that we are facing as a society is the quality of our air and at WSP we are constantly looking for ways to overcome these problems that will affect our future generations", said Ian Brooker, director of logistics at WSP. "By educating those on the benefit of articulated vehicles and encouraging the use of these larger vehicles, the industry can positively contribute to reducing CO2 emissions during transportation."
WSP acknowledges that there are "some industry concerns" about the stability of articulated vehicles when tipping material and about the presence of larger HGVs on the road. However, its study asserts that larger HGVs come at no greater risk, and that any risk of tipping over during unloading can be managed or avoided completely by using relatively new designs of vehicles.
"The benefits of using articulated vehicles far outweigh any actual or perceived safety concerns", said Ian Brooker. "HGVs currently still remain essential for the transportation of materials to and from construction sites, but if we can reduce these numbers by using larger, more appropriate vehicles, we can drive towards a reduction in emissions and improve the safety on our roads."
Got a story? Email news@theconstructionindex.co.uk