Liebherr unveiled the twin boom system for its 1,350t capacity LR 11350 crawler crane last year at its factory in Ehingen, Germany. The innovation used two parallel booms to improve the lifting chart of the crane by up to 70% in some scenarios.
The PowerBoom was originally developed by Liebherr for its LR 13000, but the innovation was then also transferred to the smaller LR 11350.
Weldex bought the first unit of the LR 11350-P1800 and immediately shipped it from the factory to a wind power job in Eemshaven in the Netherlands, for a job with Mammoet, a major Dutch competitor. Weldex sent crane drivers Brian Doherty and Mark Hall from Ireland to share the crane operation duties.
The job was to lift the 18m by 7m machine housing of a 6MW class wind turbine belonging to Repower. The 340t machinery had to be raised onto a tower 110m. The gross weight of the load, including hook and tackle, was 378t.


Liebherr believes that it may well be one of the heaviest lifts that has ever been lifted onshore by one crane in one single lift. Repower previously would lift the machine housing in sections but the development of this crane means that it can now preassemble at ground level.
A total of two 6MW systems from Repower were installed by the LR 11350-P1800 in Eemshaven, both serving as test facilities. Plans are for 48 turbines of this type to be installed from 2013 onwards in the North Sea East offshore windpark, off the island of Heligoland.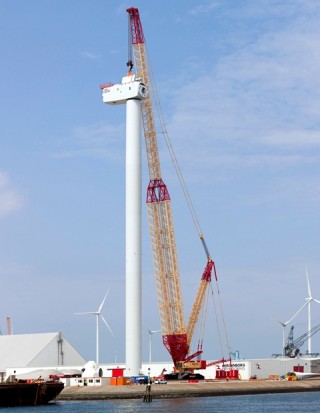 Got a story? Email news@theconstructionindex.co.uk