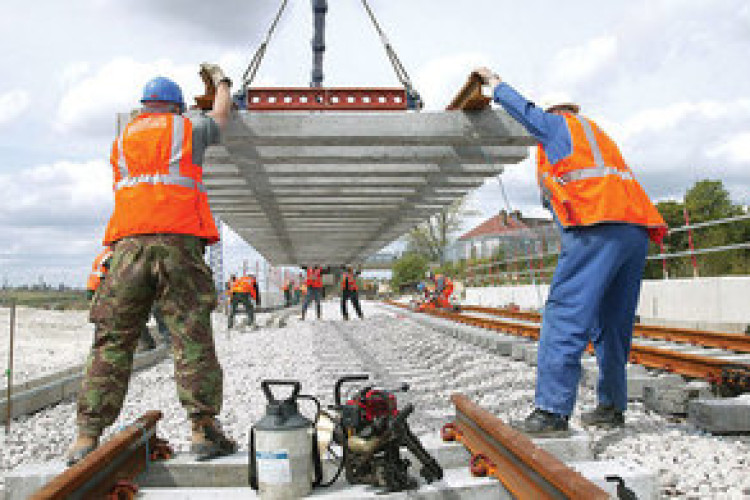 Among the winners are the CEK joint venture of Carillion, Eiffage, Kier, which has been awarded two lots that are together worth a keenly bid £1.4bn, and Balfour Beatty Vinci JV which has also won two lots, together worth £2.5bn.
The other big winner is SCS JV (Skanska Construction UK, Costain, Strabag), which has won two lots of tunnelling under London.
Half of the contactors involved in the project are foreign owned.
Area South
S1: Euston Tunnels and Approaches – SCS JV (Skanska Construction UK, Costain, Strabag) – £740m
S2: Northolt Tunnels – SCS JV – £1.1bn
Area Central
C1: Chiltern Twin Tunnels (15.8km long) and Colne Valley Viaduct (3.4km) – Align JV (Bouygues Travaux Publics, VolkerFitzpatrick, Sir Robert McAlpine) – £965m.
C2: North Portal Chiltern Tunnels to Brackley – CEK JV (Carillion, Eiffage, Kier) – £724m
C3: Brackley to South Portal of Long Itchington Wood Green Tunnel – CEK JV – £616m
Area North
N1: Long Itchington Wood Green Tunnel to Delta Junction and Birmingham Spur – BBV JV (Balfour Beatty, Vinci Construction Grands Projets, Vinci Construction UK, Vinci Construction Terrassement) – £1.32bn
N2: Delta Junction to West Coast Main Line Tie-In – BBV JV – £1.15bn.
At this stage the contracts are for design and construction preparation works – stage one of Phase 1. These contracts are expected to be signed after completion of the mandatory standstill period. It is envisaged that those who complete stage one will move on to stage two – main construction – in 2019.

Phase 1 of HS2 is a 190km high speed line linking London with Birmingham and the West Coast Main Line near Lichfield. It is planned to open in 2026. Phase 2 follows on, taking the line up to Manchester and Leeds. The enabling bill to deliver Phase 2a, to Crewe, is published today. Subject to parliamentary approval, this part of the route could open in 2027.
The government plans to deposit the hybrid Bill for Phase 2b (to Manchester and Leeds) in parliament in 2019 so that it can open in 2033.
HS2 stations at Euston, Old Oak Common and in Birmingham will be central to HS2 and the work needed to develop designs is also well underway. Last week, both the invitations to tender (ITTs) for the station design services contracts for all four Phase 1 stations and the invitation to participate in dialogue (ITPD) for a Euston Master Development Partner were released to shortlisted bidders.
"These are significant milestones," said transport secretary Chris Grayling. "They show how progress is continuing at pace in order to deliver stations that will be embraced by the local communities, drive economic growth and provide seamless journeys for passengers."
David Higgins, chairman of HS2 Ltd, said: "This is a huge day for the HS2 project and for the country. These contracts will support 16,000 jobs here in Britain and will create opportunities for thousands of SMEs. HS2 was always designed to be much more than just a high speed railway and today we can see the opportunities it brings right around the country – spreading prosperity, acting as a catalyst for investment and rebalancing our economy 10 years before the railway even opens. Business now has the surety to invest with confidence to build a legacy for Britain."
Balfour Beatty chief executive Leo Quinn said: "This is a generational engineering project. HS2 will provide vital infrastructure not only to rebalance the economy, but also to fuel growth in skills, jobs and prosperity across the UK for the future."
Align chairman Geoff French said "We are delighted that our team's passion for HS2 and their boundless dedication have been so remarkably rewarded. We are now proudly part of a nationally transformational project that will be a catalyst for growth for the UK, with a mandate by HS2 Ltd and our government to demonstrate outstanding industry standards to the world, but most importantly to leave a proud legacy for Britain's future."
Losing bidders include LFM (Laing O'Rourke, FCC, Murphy), Fusion (Morgan Sindall, BAM Nuttall, Ferrovial Agroman) and Momentum Infrastructure (Dragados, Hochtief, Galliford Try).
The full list of the shortlisted bidders was published here on 23rd March 2016.
It is noteworthy that the prices agreed with CEK came in at or below the lower end of estimates, suggesting particularly keen bidding by the Carillion/Kier team. Lot C2 was estimated at £800m to £1.3bn, compared to CEK's accepted bid of £724m.
Lot C3 was estimated a £600m to £900m; CEK's accepted bid here was £616m.
By contrast, BBV's prices are closer to the middle of the estimates. Lot N1 was estimated at £900m to £1.5bn; BBV's winning bid was £1.32bn. For Lot N2 the bid of £1.15bn was similarly matched to the £800m to £1.3bn estimate.
SCS and Align also won their contracts with bids very close to the exact mid point of the estimated range.
Got a story? Email news@theconstructionindex.co.uk