Ernest Harold Grainger who was born in 1938, and has always been affectionately known as Harry, finished his national service in the late 1950's. After this time he went to work for a local wood pulp supplier. After a couple of years in this job, Harry decided to start up his own business in the early 1960's. He started off performing land clearing for local farmers, which consisted of "grubbing" out hedgerows between fields to make them bigger.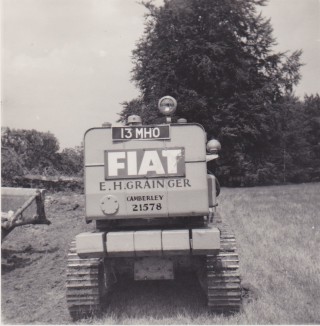 Harry recalls that his first machine was an International BTD6 tracked loader, after which he progressed onto an International 150 and the larger 175 model, all of which were equipped Power Fork root forks. The BTD6 is seen here in this old poor quality shot.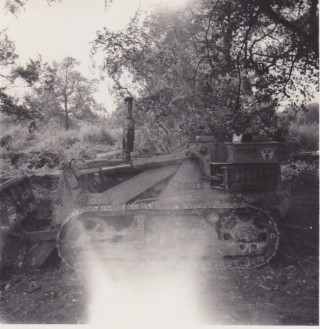 As time went by Harry started doing land clearance work for private estates, housing developers and the MOD, which in those days were apparently known as the PSA (public service agency). During this time he performed general clearance works but also purchased loads of round timber which he extracted and then transported for milling.
By this time he was also running a Fiat Allis FL6 tracked loader, a Track Marshall 70 dozer and a Fordson Major tractor fitted with a Cooks 10 ton 2 speed winch.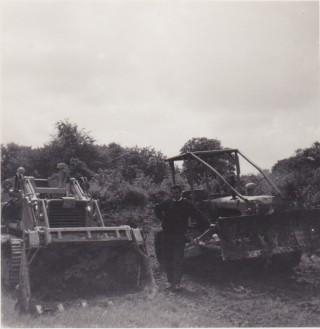 In later years Harry ran mostly Caterpillar machines, including 941, 951A, 955K and 955L tracked loaders which were all fitted with 4 in 1 buckets and root forks which could be fitted as required. Also at this time Harry was running Caterpillar D4 dozers which were equipped with Hyster hydraulic winches, as well as a couple of Fordson Major tractors, and a Ford 5000 tractor all of which were equipped with Boughton 10 ton winches.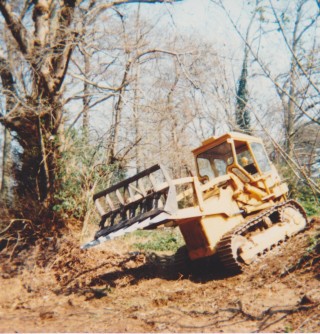 In this shot we see a young Neil Grainger alongside his father's 955K tracked shovel with another type of cat looking on!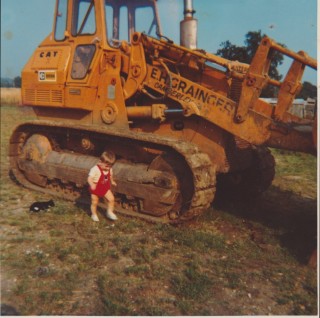 Towards the mid 1970's Harry's company also took on a bit of demolition work, which ran alongside the land clearance and forestry work for which he purchased a Hymac 580 machine. Harry couldn't quite remember if it was a BT or a C model but from this photo I would say it was probably a 580C machine.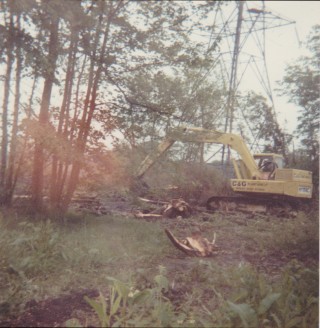 During this period Harry also ran a Massey Ferguson 40 backhoe loader.
Harry finally packed up in business in 1985 due to a heart attack, sadly an all too familiar circumstance among businessmen, but he still kept one Caterpillar 951A tracked loader just in case! That classic old machine got put to good use to clear up the local park following the great storm of 1987 but after that the machine was sold and Harry finally retired.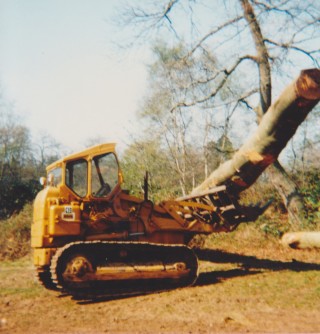 Harry will be 74 this coming April and these days puts his time to good use with his restored Massey Ferguson 135 and watching his son Neil doing his thing with his mini digger hire and plant operating business, Always Digging.
The Digger Blog would like to thank Harry & Neil for sharing these memories with us and we wish Harry all the very best for the future.