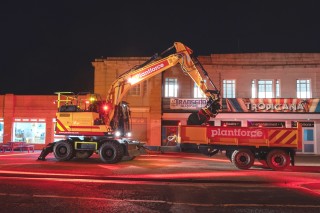 The HW160 has been kitted out with all latest safety technology, and it operates in tandem with its own trailer.
The wheeled excavator and trailer combination is a relatively new concept in the UK and is only usually provided as an owner-driver combination or a main contractor solution; the Plantforce solution is unusual in the hire market but the company expects it to be a hit.
Plantforce was inspired to specify a 'super-safe' machine at a conference attended by representatives from Highways England and people involved with such mega projects as Hinkley Point C and HS2. One of the subjects discussed at the conference was what technological innovation was available to minimise dangers faced by highways operatives. Particular concerns discussed were highway operatives working alone, at night, or in proximity to moving machinery.
Plantforce Rentals operations director Sam Mercer says: "Plantforce have an excellent working relationship with many of the contractors who work in these types of environments. We are also at the forefront of technology and innovation when it comes to operated and self-drive plant hire. We felt that we were ideally placed to embark on the innovation project and start working towards a technology-driven future for both contractors and operators."
Sam Mercer put his head together with Plantforce marketing manager Dale Hawkins and together they drew up a specification for what they describe as a 'lone man' working solution for the industry.
Dale Hawkins says: "With safety and efficiency an important key factor on all major contracts around the UK, we have developed this Hyundai machine, with 'lone man' working in mind. It offers a solution for operatives working in the highways and civil sectors – chiefly the night workers.
"Although this may look like a normal Hyundai wheeled loader on the outside it's packed with new technology with the aim of reducing the number of men from the 'work zone', this not only promotes safety but can reduce costings on a job site with fewer machines and speed up work times."

The Hyundai HW160W's transformation began with the installation of an Encgon tiltrotator fitted with grab and buckets, coupled with a twin-axle tipping trailer. A Prolec height and slew restriction system was then installed, which comes with an inbuilt weighing system and a cut-out system to prevent the machine from toppling over if overloaded. The Prolec system also has a safe working area limiter, preventing the machine from moving into live carriageways or hitting overhead power lines.
The Hyundai is also fitted with a GPS Trimble Earthworks system, which once the site has been scanned for buried utilities with a ground penetrating radar, the GPS in the machine will give the operator a full 3D map of the site. This system does the job of a surveyor, reducing the need for more personnel onsite.
There is also a seven-lamp FHOSS Halo Exclusion. Once the FHOSS Halo light is shone around the vehicle, focused beams of red light identify an exclusion zone to keep nearby workers out of the danger zone.
Plantforce's HW160 also has a Site Zone proximity warning system, which alerts the operator if anyone steps into the working area.
And then all this technology is topped off with high-visibility Chapter 8 reflective chevrons and livery.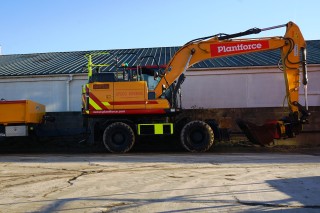 "The Hyundai machine is highly visible, so any approaching traffic will clearly see the machine, further reducing risk," Dale Hawkins says. "It also eliminates service strikes and overloading the machine – but most importantly collision with other site personnel."
Plantforce Rentals, operating across the West Country and the Midlands, has 93 Hyundai machines in its fleet, ranging from 6 tonnes up to 52 tonnes, including loading shovels, crawler, and wheeled excavators. But this new HW160 wheelie takes safety to a whole new level.