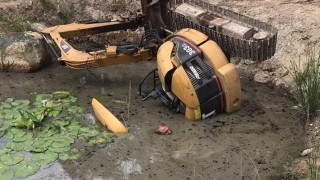 Father-of-two Daniel Miller lives on a remote property in Charlotte Bay, near Forster, on the New South Wales coast. He was working with the three-tonne machine in his backyard, tending to some rocks and plants along the muddy dam, when the banks collapsed beneath him. He was pinned down under the mud by the excavator's roll bar (which is ironic).
Only the thought of his family finding him face down kept him fighting to survive.
Eventually a neighbour heard his cries and called the emergency services.
"My big fat ass wouldn't slip out from under the roll bar and I couldn't get out," Mr Miller told the Sydney Daily Telegraph from his hospital bed. "I was trapped and had to keep my head up above water using my arms, I guess it was the cobra position. I'm not a yogi but I guess you could say yoga saved my life. That and the will to live; I promised my wife when we got married I wouldn't die before her.
"I wanted to honour my vows – the whole time I was trapped I kept thinking of her and my two young children.
"At one stage I was face-down in the mud when I first landed in the dam when it began filling up. I thought 'f*cking hell, I'm going to die. This is a living nightmare.'"

In a separate interview with TV channel 9News he related: "I didn't have time to jump clear so I kind of rode the machine down hoping I would be alright. I hit the water and went under. The next thing I feel is the roll bar come across my back, the dam was very soft, very muddy.
"I thought, shit, I got to get the surface, so I pushed my arms up into the mud and grabbed a mouth full of air. Back pinned, arms up, machine still running.
"I went into an almost robotic state and thought 'just count to 60, move my arms, readjust', and just wait and try and be calm and logical. I watched a cricket climb across a piece of grass for two hours.
"I was thinking about how my family is going to find me face down in the dam dead on my property, so that wasn't going to happen – not without a fight."
"He's a legend, not many people could have survived that," Mr Miller's wife, Saimaa, told the TV reporter.