The centerpiece of Finning's new look "Trusted by Experts" Z4 stand will be a massive Cat 6030 mining shovel, which will be making its first official public appearance in the UK.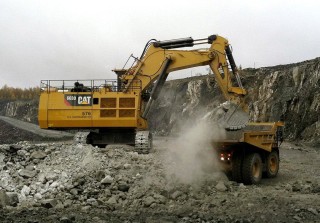 The 316 ton monster, that wields a 16.5m3 (21.6 cubic yard) bucket, will tower above a host of other Cat products on the stand, which will also incorporate customer experience zones, seminars and another official public first, with the launch of the new Finning "Finsight" monitoring service.
The newly formed Finsight team will also be demonstrating the innovative industry first monitoring service. Visitors will be able to see how Finsight incorporates Cat Product Link GPS data with servicing information, fluid sampling and much more, improving performance and saving customers money.
Industry Specialists will be on hand to explain the advances in Caterpillar equipment, with the new Stage IIIB engine technology and a range of new Caterpillar products, including the exciting K series wheel loader, off-highway trucks and excavators will be revealed on show day.
But without doubt the main attraction is sure to be the new Cat 6030. The Digger Blog had hoped to get up close and personal with one of these massive machines before Hillhead, but it looks like we will be joining members of the public, as we all clamour to get our first "In the Iron" preview.

I for one am now very excited at the prospect, and I look forward to covering next month's event here on the Digger Blog.