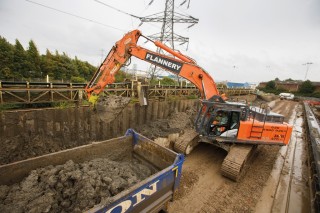 The large Zaxis excavator was delivered directly to a wharf on the River Thames last month by Hitachi dealer, HM Plant, to work 24/7 at the hub of the project's earthmoving operation.
DSJV is the main contractor at Limmo Peninsular until all of the tunnelling works are complete at the end of 2015. The tunnelling work began in late 2012 with two of Crossrail's 1,000-tonne, 150m-long tunnel boring machines (TBMs) engaged on this site.
As the TBMs drive forward, the cutterheads excavate the ground and the loosened material is transported out of the tunnel via a 2km conveyor belt. It takes more than 20 minutes for the materials to reach the end of the belt, which allows the earth to fall into a huge pit at certain points. The ZX470LCH-5 then lifts the materials from the pit and either loads a fleet of trucks or barges (via a mobile hopper).
The mode of transport is dictated by the tides on the river, with only time for four barges to be loaded in each 24-hour cycle at the wharf. Nearly all of the excavated materials is going to Wallasea Island in Essex where an RSPB bird sanctuary is being developed.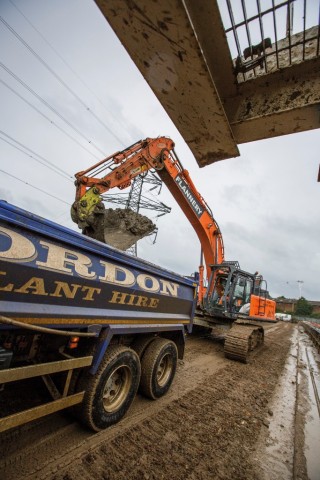 "We can load 1,000 tonnes of materials into a barge in approximately 2.5 hours and an 18-tonne truck in two minutes," says Ed Connor, DSJV's wharf manager.

"Our whole operation is dependent on the large Hitachi excavator, which has already proved to be reliable and versatile. We've not had any unscheduled downtime to date. It's a brilliant machine and can do anything on this demanding site, from maintaining the access roads to loading the hopper and trucks."
Flannery Plant Hire's operator, Piotr Makowski, has been working with the Zaxis excavator on the day shift since it was delivered. "The ZX470LCH-5 has been fantastic," he says.
"It has so much power and has been 100% reliable. This is one of the best excavators that I have ever operated. It's a strong, smooth, fast and hard-working machine. The cab is comfortable, there's more than enough leg room and I find the colour monitor to be particularly useful for safety purposes."