Although the machines depicted here come from many different manufacturers, these specialist loading shovels which are fitted with ultra wide tyres, are affectionately known as "Bigfoots" by the many local contractors who use them in the Quebec region. The tyres can be up to 3 feet wide as seen here on Michaudville's Caterpillar 938G Series II loader.
Following on from the heavy winters which are a regular occurrence in Canada the ground conditions on site deteriate rapidly between March and May, due to the melting snow and de-freezing of topsoil. It is during this period that these loaders with the high flotation tyres come into their own. This older model Case 721C is run by Bertrand Mathieu Ltee's.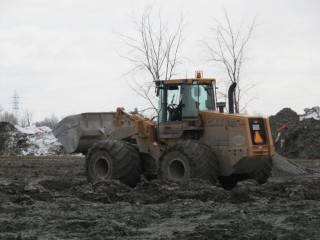 When fitted with these tyres the loaders can be anything up to 13 feet (4 metres) wide, and the machines can work on soft ground where even a tracked type loading shovel can't go. In fact one of Anthony's neighbours used to operate a tracked loader for local contractor Bricon, and he used to say he would often get stuck in the path of one of the bigfoots which would just go sailing by him hardly making any impact on the ground at all!

The most popular size machine for the bigfoot application is the 15,500kg size class, which includes the Caterpillar 938 and John Deere 624 models, but occasionally they are fitted to larger wheeled loaders such as the Volvo L110E mode. Anthony has seen one of these working in a place called Laval for Doncar Construction. In this shot however, we can see Loiselle's Volvo L90F in the distance, and the company's Caterpillar 345DL hydraulic excavator in the foreground.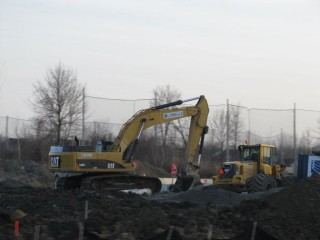 In this shot we see examples from contractor Enterprises Allaire et Gince's fleet parked up at the end of the day including a John Deere 624J "Bigfoot", Caterpillar D6T track type tractor, and a 345DL hydraulic excavator.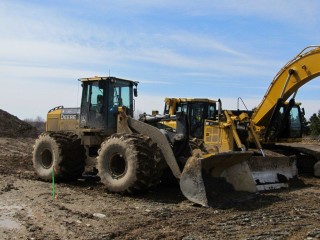 Finally in this post, here is a video taken by Anthony showing one of 3 John Deere 624J's that are run by Bricon Construction in action on site.