Andrew Borlase has been a long term Hitachi user in the past, but with local plant sales company W H Bond Ltd taking on the Cat Compact dealership recently, he decided to opt for a Caterpillar machine on this occasion. Commenting on his new replacement machine Mr Borlase said, "I know the Bond family very well, as such I knew I would get a first class deal, and a great back up service too". Mr Borlase traded in two existing machines that he owned, which comprised of 1.5 ton and 5 ton machines. His chosen machine from the Cat range was a 302.7D CR.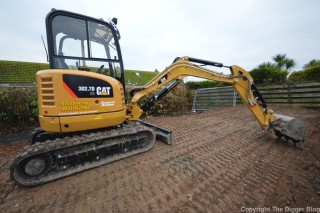 The Cat 302.7D CR (Compact Radius) is a true zero tail swing machine, with extremely compact dimensions, in fact the machine is ideal for the type of work Mr Borlase undertakes on tight and congested sites. This machine seems like an excellent compromise in terms of size, compared to his last two machines. The 302.7D CR, which weighs in at 5890lb/2670kg and is powered by a 20.7hp/15.2kw Yanmar engine, is small enough to tackle the tricky little jobs, but has enough capacity to cope with larger ones when needed, a great all rounder for the general builder.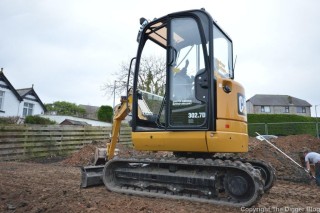 At the time of our site visit, Mr Borlase had only had the machine for one day and was still getting to know his new mount, but when asked about his early impressions of the new Cat he said, "It seems like a nice machine, it digs well, cab's comfortable and I really like the dozer blade float function, which I believe is a unique feature on Cat machines."

I have not test driven the 302.7D CR yet, but I did take up Mr Borlase's offer of a quick drive in the machine. The cab had a spacious feel to it in terms of width and legroom, but like most zero tail machines there has to be some compromise in the fact that there is no room towards the rear of the cab for the operators lunch bag or any other personal items. Having said that it was an extremely comfortable place to spend a shift, with a nice layout of controls, and wrist rests that are easily adjustable to suit all sizes of operator. All round visibility is very good and I especially like the fact that the front windscreen is of split design, with the lower section sliding up into the upper section, before the whole windscreen is raised and stored in the roof. This provides excellent glare free vision down into excavations.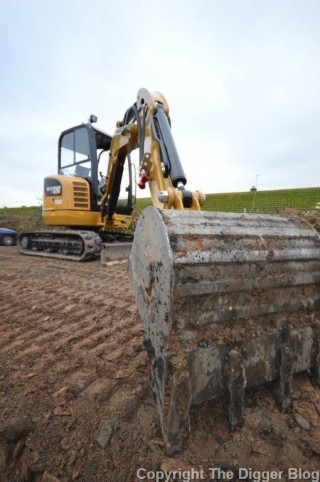 The machine had a nice positive feel to it, with extremely smooth and responsive hydraulics, and I must say these Wacker Neuson derived machines look very well engineered. It would be great to get one of these models on site with me for a full on test drive in the future, watch this space as they say.
The Digger Blog would like to thank Will Evans, plant salesman at WH Bonds Ltd and Andrew Borlase for their assistance with this post.