On 15th July Ritchie Bros. Auctioneers held its largest UK auction yet at its Donington Park site in the East Midlands.
More than 1,280 lots were sold. According to the auctioneers, there were more than 800 registered bidders, including 490 online.
Among items snapped up were a 2013 Volvo A25F articulated dump truck that was sold for £136,000 to a bidder from the UK and a 2013 Hitachi ZX225USLC-5B hydraulic excavator that went for £69,000, also to a UK buyer.
A lot of equipment went overseas. A 2013 Hitachi ZX135US hydraulic excavator went for £70,000 to an online bidder from the USA. An unused 2013 Caterpillar TH337C telehandler was sold for £39,000 to an online bidder from Hungary. A 2006 Kubota KX61-3 mini-excavator sold for £10,000 to a bidder from New Zealand.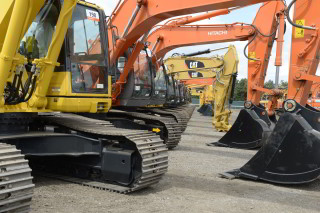 "An increase in industry activity in the UK has resulted in a vibrant balance between machinery supply and demand," said Rupert Craven, UK & Ireland sales director for Ritchie Bros. "Large construction and plant rental businesses are renewing their fleets and need an efficient, reliable way to turn used items into cash. Meanwhile, our buying customers, in particular those involved in earthmoving and access, need quality equipment they can put to work right away."
The next Donington Park auction is scheduled for Tuesday 23rd September 2014.